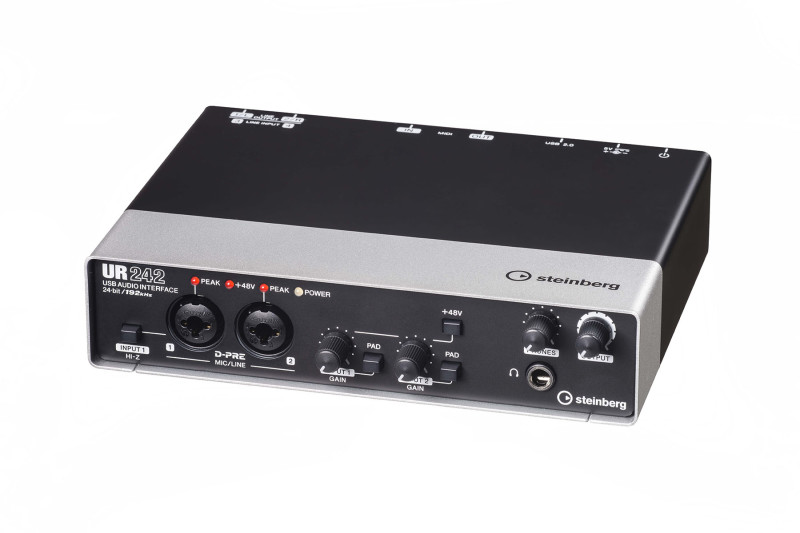 Today we will review small studio level external USB sound cards Steinberg UR : 242, 22 and 12. Their characteristics are mainly similar to middle-level Steinberg UR44 sound card, which was reviewed earlier. The same : USB connection, 192 kHz sampling rate and 24 bits precision, Yamaha D-PRE Class-A microphone preamplifiers, DSP Yamaha SSP2, DAW Cubase AI in the package and fully metal body. UR242 is different from older relative in less amount of connectors : 2 combined XLR/TRS 1/4″ jack inputs for microphone and linear input, 4 linear inputs on back panel and 1 TRS 1/4″ jack monitor headphones output with separate volume control. It is powered from additional line adapter, maximal power, sent to headphones, is a 15 mW; its mass is 1.3 kg and sizes are 198 ( width ) x 47 ( height ) x 159 ( depth ) mm; it draws maximum 5 W of energy.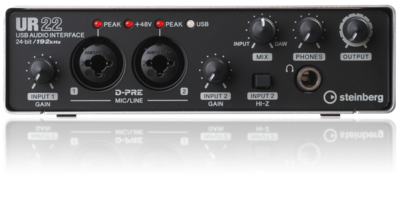 Steinberg UR22 is the audio card with even less amount of connectors ( there is need to note, that big amount of ports is not always necessary, for example, for small studio or for simple music and sounds listening ) : it has only 2 linear outputs, instead of 4. UR12 is simplified more : 1 microphone and 1 Hi-Z inputs and 2 linear outputs, without MIDI connectors. They are powered fully form USB port, maximal power, sent to headphones, is a 6 mW; mass of Steinberg UR22 is a 998 g and sizes are 159 ( width ) x 47 ( height ) x 159 ( depth ) mm; mass of Steinberg UR12 is a 850 g and sizes are 144 ( width ) x 47 ( height ) x 159 ( depth ) mm; they draw 2,5 W of energy. There is need to note, that cards' prices go down in accordance with their functionality : 199.99 USD, 117.50 USD and 89.99 USD, accordingly, at the beginning of Autumn of 2015 year, so, there is ability to choose optimal variant for optimal price.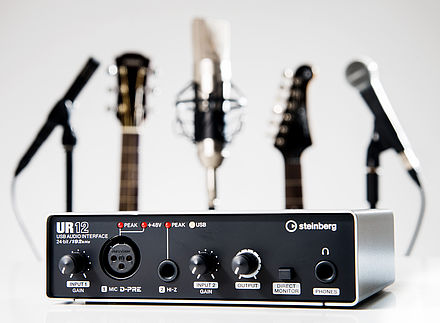 When Steinberg UR audio interfaces are used with DAW Cubase, function True Integrated Monitoring becomes available in it, allowing to control all parameters of inputs and outputs, DSP effects and all other options of sound cards. Also devices support Loopback, allowing to mix all input channels and played back signal for sending to Internet streaming programs. They work in Mac OS X 10.7 and newer and Windows 7, 8, 8.1 and 10 with support of Core Audio, ASIO 2.0 and WDM interfaces for integration with modern DAWs : Avid Pro Tools, Ableton Live, Steinberg Cubase, FL Studio, Cackewalk Sonar, REAPER and others. Devices are Class Compliant and can work with Apple iPad 2 and newer with use of Apple iPad Camera Connection Kit or Lightning to USB Camera Adapter.
Dynamic range of Steinberg UR 242, 22 and 12 is a 101 dB ( A-Weighted ), to all microphone inputs there is ability to plug in phantom power +48 V; microphone and linear inputs and linear outputs can work in balanced and unbalanced modes, instrumental Hi-Z input works in unbalanced mode. Working frequency range of microphone/linear inputs of devices is 20 Hz – 22 kHz ( +0.1/-0.2 dB ); dynamic range is a 101 dB ( A-Weighted ); THD+N equals to 0.003%; maximal input signal level is a +24 dB; impedance is 4 kOhms; gain levels +12 – +56 dB; pad is down to -26 dB. Instrumental Hi-Z input has following characteristics : maximal input level is +8.5 dB; impedance is 1 MOhm; gain levels range is +4 – +48 dB; pad down to -26 dB. Linear inputs on back panels of devices have following characteristics : working frequency range is 20 Hz – 22 kHz ( +0.1/-0.2 dB ); dynamic range is 102 dB ( A-Weighted ); THD+N 0.003%; maximal input level is +22 dB; impedance is 30 kOhms ( for +4 dB input ) and 20 kOhms ( for -10 dB input ); for them signal modifications -12.5 dB ( for +4 dB input ) or +5.5 dB ( for -10 dB input ) can be switched. Working frequencies range of linear outputs is a 20 Hz – 22 kHz ( +0.1/-0.3 dB ); dynamic range is 104 dB ( A-Weighted ); THD+N 0.005%; maximal output level is +10 dB; impedance is 150 Ohms.
For installation of DAW Cubase AI there is need in connection to Internet for downloading of additional data with 500 MB size. Steinberg UR242 supports following DSP effects : Latency-free monitoring with FX ( dspMixFx ), True Integrated Monitoring with FX in Cubase, Guitar Amp Classics, REV-X Reverb, Sweet Spot Morphing Channel Strip, Phase switch per channel and High-Pass filter. Cubase AI – is a simplified version of professional DAW of Steinberg, it is based on the same audio engine with 32-bits float precision of calculations; can work simultaneously with 32 sound tracks, 48 MIDI tracks and 16 instrumental tracks with ability to record completed compositions to disk in WAV and AIFF formats, and in MP3 after purchsing of according module. For audio and MIDI editing in program following editors are built-in : Key, Score and Drum, pitch-shift instrument AudioWarp with support of ACID files format, which allows to use large amount of already created sounds samples, and Chord Track editor. 28 VST effects and processors are built into it for work with sounds, sampling synthesizer instrument HALion Sonic SE with 180 sound; mixing console with 4 Inserts and 4 Sends for each track and equalizer. DAW Cubase AI can work in 32 and 64 bits operating systems Windows and Mac OS X.
Package contains : Steinberg UR 242, 22 or 12 audio interfaces themselves, USB cable, power adapter ( for UR242 ), CD-ROM disk with drivers and programs, user's guide and warranty card. On optical disk there are : drivers, devices control panel and DSP effects ( for UR242 ) : dspMixFx, UR242 Extension ( for connection to DAW Cubase ), Basic FX Suite ( VST effects and processors set ), Sweet Spot Morphing Channel Strip ( compressor and equalizer ), REV-X ( reverberation ) and Guitar Amp Classics ( program emulator of guitar amplifier ). All in all devices are very good, they have great digital abilities and connectors, as well as optimal prices; there is also need to note that there are audio interfaces of Behringer, Focusrite, Roland, ESI, M-Audio, Alesis and other companies, that are better, than these ones in analogue part. Steinberg UR 242, 22 and 12 are great solutions for small studios and concerts, as well as high-quality in-home sounds and music playback.
Steinberg – is a German company – creator of DAWs, VST effects, processors and instruments and also of audio interfaces, being based in Hamburg. It was established in 1984 year and now is being owned by Yamaha Corporation from 2004 year. At current moment Steinberg is one of the leading audio equipment and programs manufacturers in the world, for example, its professional DAW, instruments and hardware are used by following musicians : Hans Zimmer, Junkie XL, Justice, Kraftwerk, New Order and others.