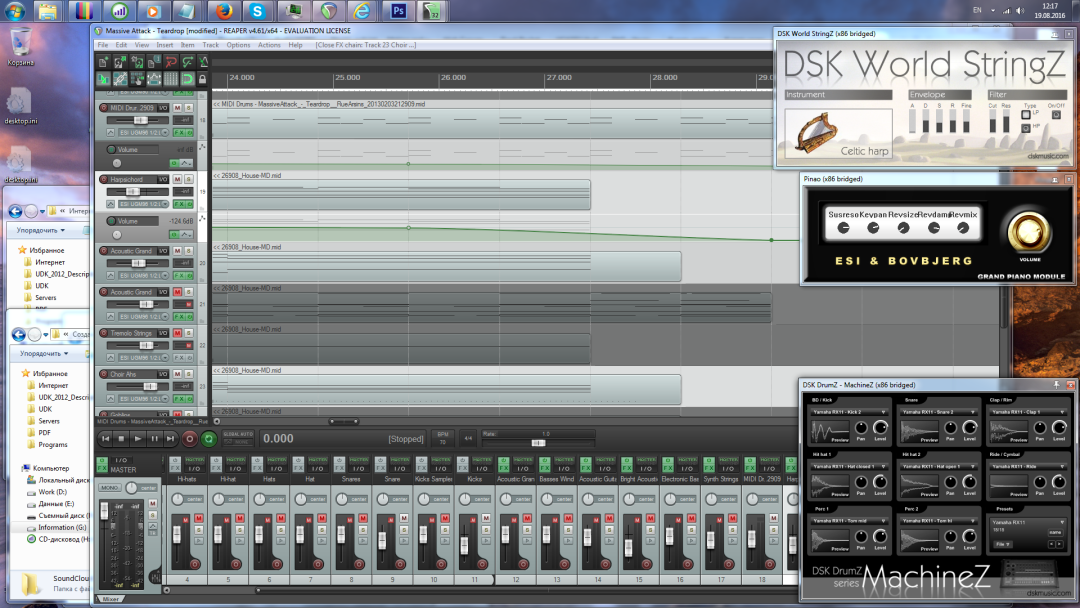 Love, love is a verb
Love is a doing word
Fearless on my breath
Gentle impulsion
Shakes me, makes me lighter
Fearless on my breath …

Under the the impression of performing of Teardrop composition of Massive Attack collective on electric keys on Gastronom-Fest ( RU ), I wished to create its variation in DAW REAPER with use of program VST instruments and effects. For this I downloaded from Internet 2 MIDI files with melody notes, combined them, slightly edited and chose the best sounding together instruments. Then with use of reverberation added volume and expression to main instruments and with compression adjusted dynamic range of additional instruments, so that their volume variations would not highlight them too much. Then tracks volume balancing, addition of volume automation for main instruments : they are switched on and off smoothly, this way it has more dynamics and saturation.
… Teardrop on the fire
Fearless on my breath

Night, night after day
Black flowers blossom
Fearless on my breath
Black flowers blossom
Fearless on my breath …

Main instruments in composition are sampler VST synthesizers ESI Piano and DSK Overture with instrument Harpsichord, additional ones are ESI Piano and DSK World Strings with instrument Celtic Harp. + Small changes of sound synthesis parameters, such as built-in effects, filters and other parameters. For drums sounds I used drum-machine DSK DrumZ – MachineZ, which allows to synthesize sounds the same way, as hardware drums synthesizers do, there are 18 of them presented in program ( among them, for example, there are : Roland TR 808, Acetone Rhythm Ace, Akai XR10, Alessis HR 16, Boss DR55, Korg DD1, Yamaha RX 11 and others ), there is also ability to change their different parameters, creating needed sound. DSK also has sampled drums synthesizers, which allow to generate sounds on base of recorded samples, but with fully electronic generators it is easier to work and create needed sound. You can download project files for DAW REAPER via this link : Variation on Teardrop – Massive Attack theme in DAW REAPER. Onwards I'll work on creation of next composition, Stay Tuned!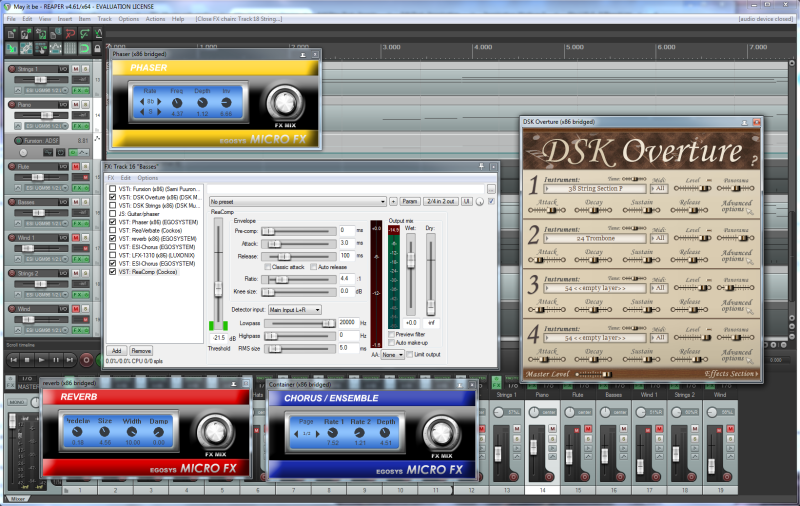 … Teardrop on the fire
Fearless on my…

Water is my eye
Most faithful mirror
Fearless on my breath
Teardrop on the fire
Of a confession
Fearless on my breath
Most faithful mirror
Fearless on my breath …

Slightly in more details about instruments, used in Massive Attack's – Teardrop composition creation : ESI Piano – is a piano synthesizer, which allows to change different parameters of sound generation, for example, Sustain and Resonance, as well as to apply built in reverberation for simulation of room, in which instrument plays. DSK Overture – is a sampler instrument, generating sounds of large amount of instruments : wind and strings, among them there are, for example : harp, cello, contrabass, flute, french and english horns, trombone and others. DSK World Strings is also a sampler synthesizer, which presents instruments of different peoples of the world : Celtic harp, dobro, dulcimer, koto, kanun, tar and others. About DSK DrumZ – MachineZ there is also ability to say, that this instrument allows to combine sounds of drums, generated by different synthesizers in one part, and set their position in stereo picture and sound volume level.
… Teardrop on the fire
Fearless on my breath

You stumble in the dark
You stumble in the dark
Massive Attack – is a British group, founded in Bristol in 1988 year by Robert "3D" Del Naja, Grant "Daddy G" Marshall and former participant "Mushroom" Vowles ( "Mush" ). They create electronic music in Trip hop style, for which slow paced rhythm and mainly sad and melancholy mood of compositions are characteristic. Their debut album Blue Lines was released in 1991 year and contains one of the most well known tracks of group Unfinished Sympathy, their third album Mezzanine, containing composition Teardrop, to which this article is devoted, was released in 1998 year. Both albums are considered one of the best in all history of modern music creation; Massive Attack was nominated on and received lots of musical awards, among which there are : MTV Europe Music Awards, Q Awards, Brit Awards and others. Teardrop is one of the most widely know compositions of collective all around the world, it was used in large amount of films and on television; it has lots of variations and remixes, +1 one of which is presented on this page :-) .
REAPER ( Rapid Environment for Audio Production, Engineering, and Recording ) – is a Digital Audio Workstation, developed by company Cockos Incorporated from 2004 year. In its creation and advancement main aspects are set on professional functionality and small price, instead of large amount of already completed half-automated instruments and effects, as this is done in lots of other DAWs. Among features of REAPER there are : 64-bits sound processing engine; support of all sampling rates and precisions; support of recording and editing of audio and MIDI on any amount of the tracks; support of MIDI controllers; support of VST, VST3, AU, DX and JS plugins; ability to automate all tracks' parameters; large amount of already made instruments and effects for sounds and music creation; as well as support of built-in scripting language for audio processing and control of DAW. Program is developed with accounting of wishes of musicians; it is used, for example, by BBC, and by other companies and musicians. It can be used for free in a defined time interval, after this, by license, it should be bought, however its functionality is not limited after testing time period. Current version of DAW works in Microsoft Windows XP, Vista, 7, 8, 8.1 and 10 and Mac OS X 10.5 and newer operating systems; Linux is not supported directly, but there is ability to launch REAPER in Wine emulator.