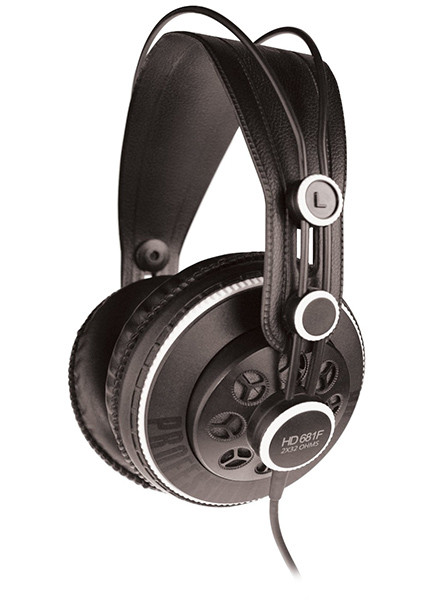 Among dynamic monitor headphones with great value/price ratio there is need to note Superlux HD-681 B device with semi-open acoustic architecture, 50 mm membranes and 30 USD cost ( many other overbranded manufacturers would ask 10 times more for devices with simillar characteristics ). Their membranes are moved by neodymium magnets, they can reproduce sounds in 10 Hz – 30 kHz frequencies range, sensitivity is 98 dB, impedance is 32 Ohms and maximal power input is 300 mW. To one of the cups 2.5 m not detachable cable is mounted with 1/8″ mini-jack gold-plated plug for connection to sound source; device's mass is 276 g; earcups are covered with leather.
In each cup of Superlux HD-681 B there is only 1 audio emitter, device's mass without wire accounting is 235 g; headband automatically adjusts to listeners with different heads sizes and forms, it and cushions have soft structure for comfortable wearing during long-time listening of sounds and music. Headphones have no active noise-cancellation function, as some other monitor headphones have, they are not foldable and are supplied only in black color variant. Their cable has no clip and slider for tangling and clinging to clothes and surrounding objects prevention.
Package contains : Superlux HD-681 B headphones themselves, carrying and storage case, warranty card and user's guide. Headphones are great and with such price they have no analogues among monitor headphones with 50 mm membranes, so when one search for such device, these ones are the first to look on. They 'll fit very good to professional work in studios and on concerts, as well as high-quality every day sounds and music listening.
Superlux – is a company, which main office is located in Taiwan development and testing laboratories and facilities in Hong Kong and other China cities. This name is a brand of company Goang-Fann Co. Ltd., which in 1997 year acquired Tenlux – company-producer of microphones and started to release headphones, microphones and other audio equipment under this name. Company is known for production of very functional devices with very attractive prices; so, when according sound devices are being choosen, it is useful to look on products of Superlux.