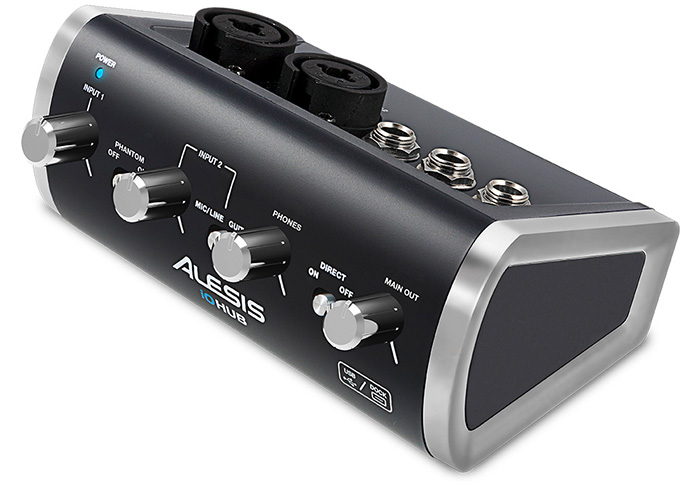 Among compact and functional USB audio interfaces there is a Alesis iO Hub – device with 2 inputs, 2 outputs, phantom power +48 V and Direct Monitor. On its frontal panel there are : power indicator, gain control knobs for both inputs, phantom power +48 V switch for first one, second input can be switched between microphone/linear and instrumental Hi-Z modes via according switch; volume control for headphones with Direct Monitor function switch; and volume control of device main outputs. On top of interface there are : 2 combined XLR/TRS 1/4″ jack microphone/linear inputs; analogue TRS 1/4″ jack left and right outputs; and TRS 1/4″ jack monitor headphones output.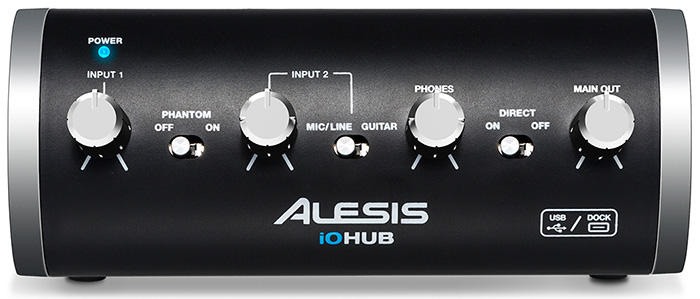 Alesis iO Hub can be powered from USB port or battery, which can be placed in special bay, for work with mobile devices ( tablet PCs and notebooks ) without load on their batteries. Manufacturer does not tell with which parameters device works, most probably, it should support at least 48 kHz and 24 bits work mode. USB interface is a Class Compliant and does not require additional drivers in Windows Vista, 7, 8, 8.1 and 10 and Mac OS X, also it can work with Apple iPad with use of Apple iPad Camera Connection Kit, which should be bought separately. And can interact in them with DAWs : Avid Pro Tools, Ableton Live, Steinberg Cubase, FL Studio, Cackewalk Sonar, REAPER and others; device's body is made from metal for increased durability and decrease of electro-magnetic interference.
Package contains : USB audio interface Alesis iO Hub itself, USB cable, warranty card and user's guide. By the compact sizes, connectors amount and convenient controls interfaces is good; how good it is overall there is ability to say by its sampling rate, digital to analogue and analogue to digital conversions precision from user's manual; THD+N, noise level and dynamic range of inputs and outputs; and its price. There is also ability to look on other USB audio interfaces of Steinberg, Behringer, Focusrite, Roland, ESI, M-Audio, Alesis and other companies production, to chose from them one, which is the most optimal for set tasks.