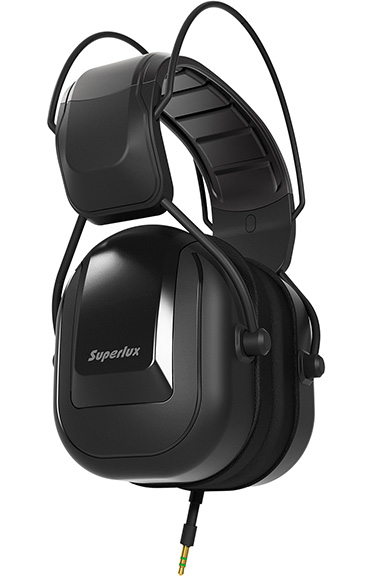 Company Superlux presented its new high-quality device with not high price : HD-665 – 40 mm dynamic monitor headphones with support of 10 Hz – 20 kHz sound frequencies playback, closed acoustic architecture, 102 dB/mW sensitivity and good isolation from external sounds, which cost around 80 USD. Their impedance is 68 Ohms, for their sounding there is need in powerful audio source, for example, USB audio source with separate output for headphones and its signal amplifier; mass is 372 g without cable accounting and 428 g with it. Earspads and part of headband of audio device are covered with soft material for comfortable sounds listening during long time.
Wire of Superlux HD-665 has 3 m length, it is detachable, connects to only 1 of the cups and plugs to sound source via 1/8″ mini jack connector with gold-plated contacts; headphones are supplied only in black color variant and have auto adjustment mechanism for users with different heads sizes. Manufacturer tells about additional measures, applied for increase of amplitude-frequency characteristic evening, in particular : headphones have improved basses reproduction, which is useful for playback of drums, string instruments and other instruments, having low frequencies in their sounds, during their recording in the studio or simple music playback. Superlux HD-665 absorb external sounds with volume up to 30 dB, they have no noise-cancellation function; each cup has only 1 driver; even accounting for the fact, that their earspads rotate freely, they have no compact folding mechanism,
Package with Superlux HD-665 headphones contains : adapter to 1/4″ jack connector also with gold-plated contacts, cable fixation clip, bag for convenient carrying and storage, warranty card and user's guide. All in all, headphones are good : they have wide reproducible sounds frequencies range, improved basses reproduction, good sensitivity, high impedance for noises from cable and contacts areas absorbing and more stable audio playback, good environmental noises absorbing and comfortable framing for long-time sounds and music listening. Their price is quite adequate to their functions; however there is need to note that for the smaller price there is ability to buy 40 mm monitor headphones with close characteristics and for approximately the same – 50 mm monitor headphones, providing better basses reproduction.
Superlux – is a company, which main office is located in Taiwan development and testing laboratories and facilities in Hong Kong and other China cities. This name is a brand of company Goang-Fann Co. Ltd., which in 1997 year acquired Tenlux – company-producer of microphones and started to release headphones, microphones and other audio equipment under this name. Company is known for production of very functional devices with very attractive prices; so, when according sound devices are being choosen, it is useful to look on products of Superlux.