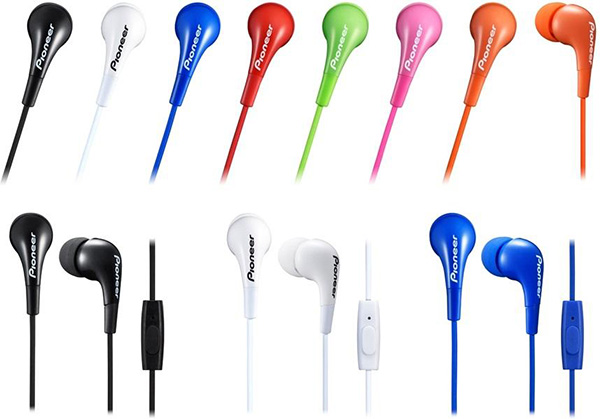 Among in-ears dynamic headphones with not high price there is a new device – 10 mm headphones Pioneer SE-CL502 with 20 Hz – 20 kHz sound frequencies playback support, 100 dB sensitivity, closed acoustic architecture and 17 USD price. Their impedance is 16 Ohms and mass is 4 g, cable is mounted to both cups, is not detachable, its length is 1.2 m and it is connected to sound source via 1/8″ mini jack connector.
Pioneer SE-CL502 have no active noise cancellation function, as some monitor headphones do, each cup has only 1 audio emitter. Headphones have no built-in microphone and smartphones and volume control buttons; as well as clip and slider on cable, to prevent its tangling and clinging to clothes and surrounding objects.
Package with Pioneer SE-CL502 headphones contains : interchangeable ears-tips of different sizes ( small, medium and large ), warranty card and user's guide. All in all headphones are good enough, they are mainly oriented on use during sportive exercises and trainings and everyday compact use, they are not overpriced. There is need to note, however, that there is ability to find similar in-ears headphones cheaper and, adding small sum, there is ability to buy good monitor headphones, providing better sound quality.
Pioneer Corporation – is a Japanese manufacturer of electronics, company was founded in 1938 year in Tokyo as service center for repair of radio and speakers. Currently this is one of the largest world wide corporations – producers of electronic devices; it participated in development of many electronics novelties, among them there are : cable TV, optical disks, DVD, plasma displays, Organic LED ( OLED ) displays and other devices. There is also need to note, that in the country of the rising Sun audio technics and electronics overall usually is developed and manufactured with high components and production quality.