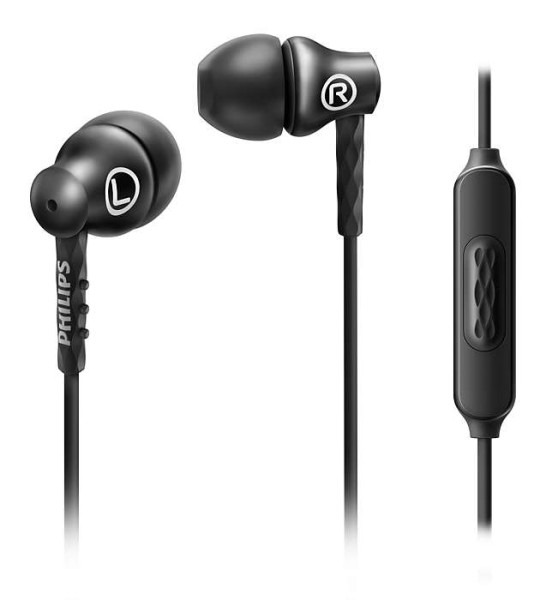 Philips released new compact dynamic in-ears headphones Philips SHE8105 with semi-closed acoustic architecture. Ears-tips housing is manufactured from aluminum, which allows to reproduce more clear sounds; they are oriented on in ear use. Drivers' diameter is 8.6 mm and they are powered by neodymium magnets, diaphragms are produced from maylar – a form of polyester resin. They can reproduce sounds in 8 – 24000 Hz range, have 107 dBa / 1 mWt sensitivity, 16 Ohms impedance and 30 mWt maximal power output. Cable has 1.2 m length, mounted to both cups, is not detachable and is connected to sound source via 3.5 mm gold plated mini-jack connector; it has slider for holding its parts together and prevent tangling and clinging to surrounding objects.
There is a volume control unit placed on cable, which has built in microphone and remote answer button for smartphones; cable inputs into earphones are additionally reinforced with flexible grips, which allows them to stay in place even with often bending of cable and tearing off forces in these areas. In each cup there is only 1 cup, coils are produced with use of copper wire, device has no active noise-cancellation function, like some monitor headphones have. Manufacturer tells, that speakers of Philips SHE8105 are designed for high quality and loud basses reproduction, however with this size they cannot compete with monitor headphones. Headphones are supplied with 3 ear tips of different sizes, which allows to use them for people with different ears sizes; external surfaces of cups have curved forms and audio tubes have oval section for comfortable placement in ears during long-time listenning.
Package contains : Philips SHE8105 headphones themselves with attached cable, 3 eartips for each earphone, user's guide and warranty card. They are released in 5 color variants : silver, gold, blue, black and red. All in all device is very good and have optimal price for its characteristics, it is oriented for use in sportive trainings and exercises, as well as compact every day use; its price is around 12 USD. If there is need in high quality reproduction of all sounds frequencies, especially basses, instead of compactness, then there is ability to buy for not much bigger price good 40 or 50 mm monitor headphones.
Philips – is a company, which were founded in Dutch in 1891 year; now it has 3 large subdivisions, which develop and produce : consumer electronics, medical equipment and lighting devices. At current moment this is one of the largest companies – producers of electronics, in which around 105000 people work in 60 countries of the world. In electronics area it produces wide range of devices : from kitchen appliances to headphones and smartphones. Philips is notable for producing quality devices, providing proper technical information about them without using of large amounts of psychological marketing and for setting of optimal prices for its goods.