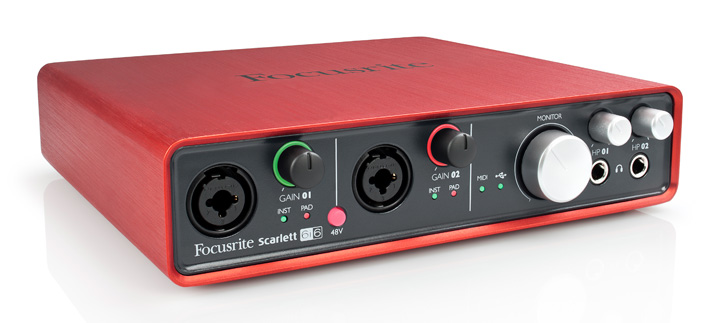 Lets review today external studio-level sound card Focusrite Scarlett 6i6, working with 96 kHz maximal sampling rate and 24 bits precision; with ability to plug-in 2 Focusrite preamplifiers. On its frontal panel following connectors and controls are placed : 2 combined XLR/TRS ( 1/4″ jack ) inputs, which are able to work in microphone, Hi-Z instrumental and linear modes; for each of them these work modes switches with backlight, PAD switches, amplification controls and common phantom power +48 V switch with backlight; 2 TRS ( 1/4″ jack ) outputs for monitor headphones, their volume controls, main card's outputs volume control and USB and MIDI connections states indicators. Its back panel has : Kensington Lock slot; SPDIF digital RCA input and output; power switch; power adapter input ( for MIDI connection ); USB port, through which it is powered and communicates with computer; MIDI input and output; 4 linear TRS ( 1/4″ jack ) outputs; and 2 linear TRS ( 1/4″ jack ) inputs.

Focusrite Scarlett 6i6 performs analogue to digital conversions with 109 dB dynamic range and vice a versa 106 dB; microphone inputs have THD -96 dB and -122 dB noise level; linear inputs on frontal panel has the same characteristics equal to -80 dB and -105 dB, accordingly; on back panel : –82 dB and -107 dB, accordingly; instrumental inputs noise level is -103 dB; THD of linear outputs is -100 dB. With card following software is supplied : DAW Ableton Live Lite, Scarlett MixControl ( 6×6 DSP mixer ), Scarlett Plug-in Suite ( containing VST/AU/RTAS versions of reverberation, compression, gating and equalizer plugins ), Novation Bass Station ( AU/VST versions of according software synthesizer ) and 1 GB of Loopmasters samples. Card sizes are 210 ( width ) x 180 ( depth ) x 50 ( height ) mm and mass is 1.18 kg; body of card is made of anodized aluminum and painted into beautiful maroon-scarlet color.
Ableton Live Lite – is a slightly simplified version of professional DAW of this branch; wherein its projects can be opened in advanced version and in it majority of instruments and utilities of more costly DAW are available. It allows to record and edit audio and MIDI on 8 tracks, has instruments Drum, Instrument and Effect, automatically recognizes large amount of hardware controllers ( for example, MIDI keyboards ), has large amount of built-in effects ( reverberation, compressor, equalizer, chorus, filters, delay and others ). Also Ableton Live Lite allows to plug in external VST/AU instruments and effects, supports Ableton Link technology, allowing to synchronize many DAW instances for cooperative work, has instrument Overhauled Simpler for work with audio, digital version of hardware devices ( which precisely enough simulate their work with sound ) and has large amount of other tools for professional work with sound in studios and on concerts. Program works in Windows 7, 8, 8.1 and 10 and Mac OS X 10.7 and newer operating systems, it requires multi-core processor, 4 GB of RAM, fast Internet connection for downloading of additional files and 3 GB of hard disk space. Among artists, using professional version of this DAW, there is ability to note : Armin Van Buuren, DJ Krush, Daft Punk, Dust Brothers, Meat Beat Manifesto, Sasha and others.
For it drivers are released for Windows 7, 8, 8.1 and 10 and Mac OS X 10.7 and newer with ASIO 2.0 and Core Audio interfaces support, allowing modern DAWs ( Avid Pro Tools, Ableton Live, Steinberg Cubase, FL Studio, Cackewalk Sonar, REAPER and others ) to use its capabilities to their full extent. Package contains : Focusrite Scarlett 6i6 sound card itself, USB cable, optical disks with drivers and software, warranty card and user's guide. It is a good stuio sound card, allowing to work with sound on professional level; from its weak sides following can be noted : not maximal sampling rate for modern-day devices, lack of balanced inputs and outputs, and lack of Direct Monitor switch. So, when audio interface is being chosen ( from this one and of Steinberg, Behringer, Roland, ESI, M-Audio, Alesis and other manufacturers production ) there is need to look on prices of devices and accordance of their technical characteristics for specific use tasks.
Focusrite – is a British company, founded in 1985 year, it produces USB, FireWire and Thunderbolt audio interfaces, microphone amplifiers, analogue equalizers and other hardware, as well as different VST/AU instruments, effects and processors, which can be connected to modern DAWs. Many of its devices currently are manufactured in China, company is one of the world leaders in production of high-quality audio devices with good digital part and often exceprional analogue part, to which many other manufacturers have a long way to go, wherein it sets optimal prices for its equipment and makes it one of the best goods in value/price ratio terms.