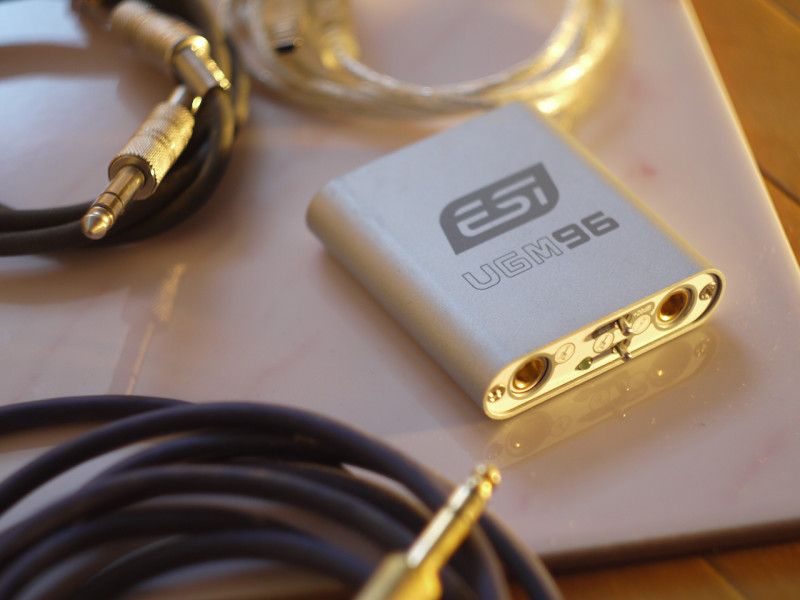 Lets devote today's audio part to detailed testing and review of external sound card ESI UGM 96 in DAW REAPER. And start with external view on card, its frontal panel has : 2 TRS ( 1/4″ jack ) inputs ( one of them is instrumental Hi-Z, second one can be switched between instrumental and linear/microphone modes, also there is ability to switch +20 dB signal amplification for it ); and right input work mode switches. Card records only mono signal by both inputs. Its back panel has 2 TRS ( 1/4″ jack ) outputs, working in linear mode and as headphones outputs, they duplicate each other and both output stereo signal; and USB port, for connection with computer and powering from it, it does not require additional power adapter input. There is no ability to plug phantom power +48 V to microphone input and card outputs and records only unbalanced signal. Body of audio interface, including frontal and rear panel, is made from aluminum; analogue connectors are nickel-plated, there are gold-plated rings on the outer sides of connectors, but they are not connected with PCB and do not conduct signal, all connectors are inside and they are nickel-plated; so, there is need to use the same plugs.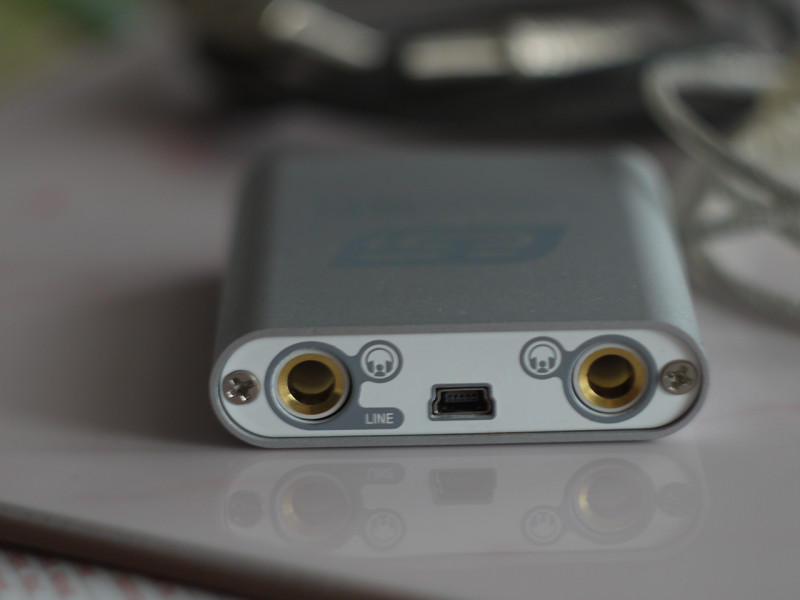 Card works with sampling rates up to 96 kHz and 24 bits per sample precision. According to technical specifications, it has following characteristics : Hi-Z inputs ( THD+N 0,003 %, impedance 500 kOhms ), input with +20 dB amplification ( THD+N 0,003 %, impedance 2.2 kOhms ), analogue to digital converter ( dynamic range 105 dB, S/( N + D ) ratio -98 dB, channels separation 90 dB ); linear/headphones outputs ( THD+N 0,003 %, maximal output power 100 mW and 32 – 600 Ohms impedance ), digital to analogue converter ( dynamic range 103 dB, S/( N + D ) ratio -90 dB, channels separation 100 dB ); power consumption 0.85 W, current draw 500 mA maximum. It is compatible with Windows XP, Vista, 7, 8, 8.1 and 10 and Mac OS X 10.4 and newer operating systems, in the first ones it uses dedicated drivers with ASIO 2.0, MME, WDM and DirectSound interfaces support, in the second one it works via native OS drivers with CoreAudio interface support. Via these interfaces it works with modern DAWs ( Avid Pro Tools, Ableton Live, Steinberg Cubase, FL Studio, Cackewalk Sonar, REAPER and others ) and sound recording and editing programs. Package contains : ESI UGM 96 sound card itself, shielded transparent USB cable, CD-ROM disk with drivers and plugins ( among which are specialized guitar compressor and effects processor and VST instruments and effects ), DVD disk with DAW Cubase LE 5 software and user's guide. PCB photos from both sides are at the bottom of article.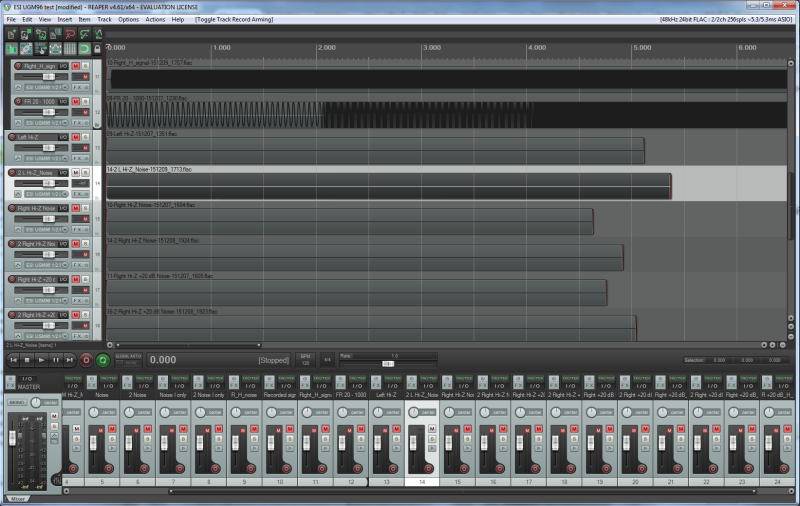 Lets move on to ESI UGM 96 testing in DAW REAPER; I tested it recording signal from inputs without plugged connectors, this way I recorded only inputs noise; and connecting card's outputs to inputs with ground and foil shielded studio microphone stereo cable with 0.5 m length and nickel-plated TRS connectors. Testing results of right input without Hi-Z mode and +20 dB amplification switching are as following : noise level without plugged connector -90.4 dB, with plugged in main linear/headphones output -87.4 dB, with duplicating headphones output -87.8 dB, recorded level of 0 dB signal ( 1 kHz sinusoidal wave ) for main output -1.2 dB, for duplicating -2,5 dB. Left Hi-Z instrumental input ( only noise without connector ) -90.6 dB; right input in Hi-Z mode ( only noise without connector ) -89.7 dB; right input in Hi-Z mode and with +20 dB amplification : -85.8 dB. Right input in linear mode with switched on +20 dB preamplification : only noise -87.8 dB, plugged in main output without signal -67.9 dB, plugged in duplicating output -68.2 dB. Wherein there is ability to raise volume level of recorded signal on +12 dB in interface's control panel, making so noise level of inputs goes up to -75.9 – -77.7 dB from -90 dB, while signal level raises up from -1.2 – -2.5 dB to 0 dB. So, it is better not to use this function and record signal on usual volume level and, if needed raise its level in DAW ( this way at least signal and noise volume levels will raise on the same dB amount ) or with use of external digital or analogue amplifier ( this way signal level will raise, but noise level of cards inputs will remain the same, amplifier just needs to be good ).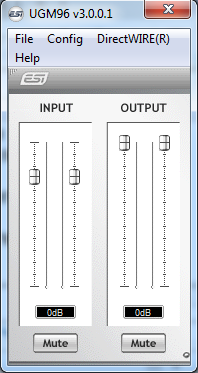 Now the most interesting : channels penetration measuring, for this I played the same 1 kHz sinusoidal wave with 0 dB volume only in 1 channel, which cards inputs do not record, and looked on recorded signal level for channel on which this signal should not be transmitted. In result for main output channel penetrated in the other one with -17.8 dB volume, and for duplicating one with -17.3 dB volume. In technical details it is specified, that DAC has 100 dB channels separation : either analogue part of card is much weaker, than DAC in this respect, or after years of use card started to leak signals so much, but fact is the fact : signal penetrates so much, that it is audible via headphones laying on the table.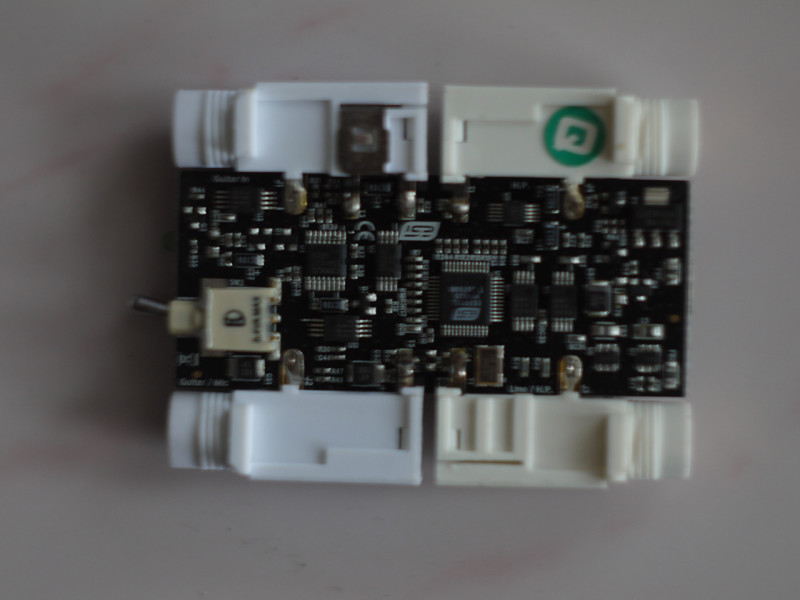 Conclusions about testing of USB audio interface ESI UGM 96 in DAW REAPER
Noise levels of card's inputs and outputs are relatively low, it is better to not use software card's input volume raising ( it is better to do this via DAW instruments during recording or after it or via external amplifier; however built in +20 dB microphone preamplifier of card is quite good and can be safely used ) and card has very high channels penetration, also, it records only mono signal. So, ESI UGM96 is more suitable exactly for mono instrumental Hi-Z or microphone inputs recording in small studio and it is not very well suited for analogue signal mixing and transmitting and for high-quality music playback ( due to high channels penetration ). Wherein it has quite low price and in value/price ratio respect is much better, than usual embeddable into computer case sound cards of Sound Blaster Audigy level, due to use of high quality digital chips and analogue components and external placement; also it can be used for recording of additional high quality audio channel in nature and on live performances. So, for its purposes card is good and worth invested money; but, if more functional and universal audio interface is needed, then it is better to buy one of Steinberg, Behringer, Focusrite, Roland, ESI itself, M-Audio, Alesis and other manufacturers production.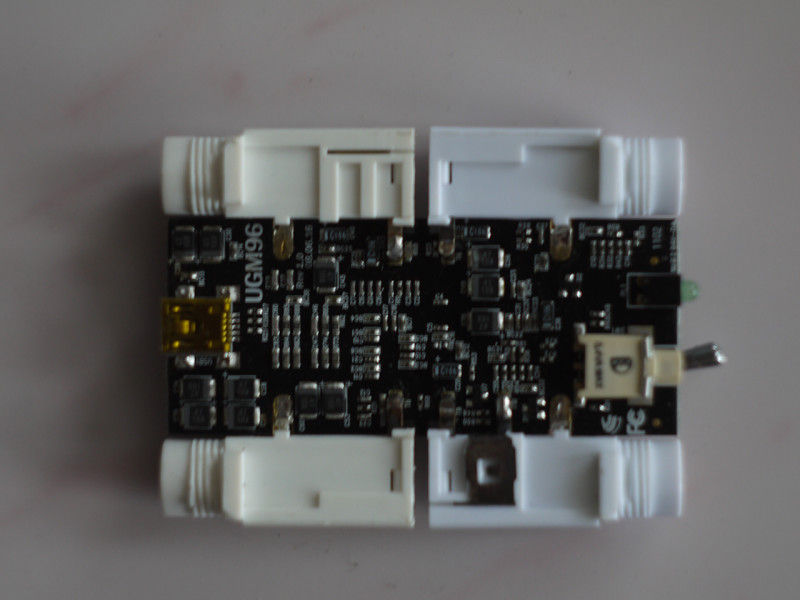 Update of ESI UGM 96 testing in DAW REAPER from 16.5.10
Resolded microphone cable from stereo into mono and made measures with it : this way channels penetration for headphones output is a -51.6 dB and for linear output is -51 dB – this way it is much better, than with stereo cable. Here are two assumptions : either electro-magnetic interference in stereo cable with common ground is so strong, that in channel without signal it appears with such strength; or microphone input partly records signal from second channel of input too. If business is in EMI, then it is useful to use for headphones and speakers cables with channels shielding by their own separate grounds, if possible, with foil; if business is in partial reading of second channel by microphone input, then here is no need to do anything, because most microphones mostly record mono sound.
Steinberg Cubase LE – is a simplified version of more professional DAW of this company, it allows to record, play, edit and mix audio and MIDI signals on 16 audio tracks, 24 MIDI tracks, 8 instruments and 8 physicsl inputs with precision up to 192 kHz and 24 bits. In it HALion Sonic SE instrument is included and set of 18 effects, among which there are modulation, delay, equalizer and others. In package with ESI UGM 96 there are following VST instruments and effects : ESI Piano ( program synthesizer of piano with ability to control Susatin, Resonance and built-in reverberation ); ESI Compressor, Chorus, Phaser and Flanger ( according effects ); LUXONIX LFX1310 ( set of many effects ); as well as other fully functional and demonstration effects.
Company ESI was founded in Germany in 2006 year, mainly it produces audio interfaces, loudspeakers and other sound equipment. Its products are notable for high quality and acceptable prices, currently offices and facilities of company are located in a couple of countries of the world.