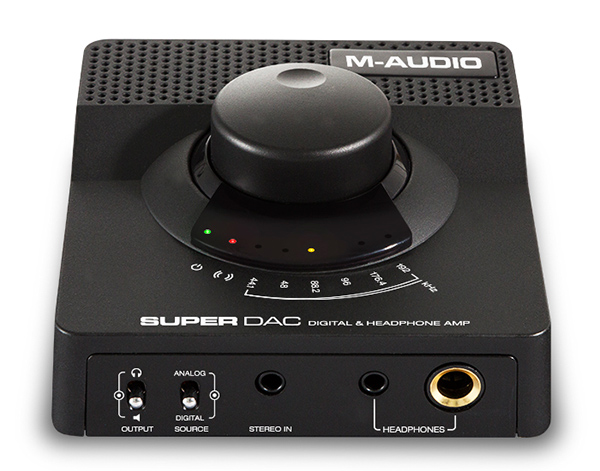 Today's audio part will be devoted to compact external USB sound card M-Audio Super DAC, able to record and play stereo sound and supporting 192 kHz sampling rate and 24 bits per sample precision. Its frontal panel has : output work mode switch ( headphones/line output ), source switch ( digital/analogue, effectively this is a Direct Monitor switch ); 1/8″ mini-jack stereo linear input; and 1/8″ mini-jack and TRS ( 1/4″ jack ) headphones outputs. Its top side has power on and sampling rate choosing knob; on back side USB for communication with computer and powering from it, 2 RCA linear analogue outputs and digital optical and coaxial outputs are placed. Manufacturer says, that high-quality headphone amplifier is used in card, and about Wolfson DAC and ADC.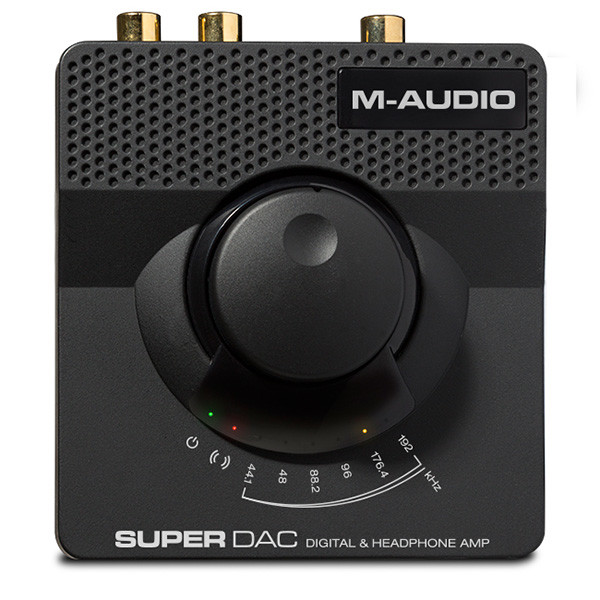 M-Audio Super DAC dynamic range is 110 dB, maximal output power is 210 mW with 16 Ohms headphones or speakers; besides 192 kHz it also supports 44.1, 48, 88.2, 96 and 176.4 kHz sampling rates; THD+N equal to 0.00003%. Card sizes are 91 ( width ) × 94 ( depth ) × 27 ( height ) mm and mass is 210 g; it is powered only from USB connection and does not require additional power adapter, judging by its small sizes and small amount of functions and connectors, it should not draw too much current. Audio interface is compatible with Windows XP, Vista, 7, 8, 8.1 and 10 and Mac OS X 10.7.5 and newer operating systems; in first ones it works via specialized drivers ( judging by them, it supports ASIO 2.0 interface ) and in second ones via native OS drivers with Core Audio interface support, so, it can be used in DAWs : FL Studio, Cackewalk Sonar, REAPER, Avid Pro Tools, Ableton Live, Steinberg Cubase and others.
Package contains : M-Audio Super DAC sound card itself, USB cable, optical disk with drivers and software, warranty card and user's guide. This card is oriented for high-quality stereo sound recording and playback on nature, live performances and in small studio; it has good technical characteristics, but costs as more functional entry-level studio sound cards, so, it is better to look on Steinberg, Behringer, Roland, Focusrite, M-Audio itself, ESI and other manufacturers audio interfaces of such level.
M-Audio – is a company, founded in USA in 1998 year, it produces audio interfaces, MIDI keyboards, synthesizers, loudspeakers, monitor headphones, DJs equipment, microphones and other sound devices. Company offices are also located in Canada, UK, Germany, France and Japan. Many popular artists use its products, among them there are The Crystal Method, Depeche Mode, Evanescence and others.