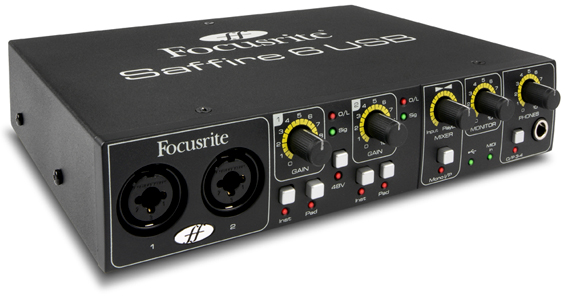 Among USB audio interfaces of Focusrite there is portable device Saffire 6, oriented for reliable work on live performances; it can work with sampling rates up to 96 kHz and 24 bits per sample precision; to both inputs of interface Focusrite preamplifiers are connected. Front panel of card has : 2 combined XLR/TRS ( 1/4″ jack ) inputs, which can work in linear/microphone and instrumental Hi-Z modes; signal amplification control knob, work mode and PAD function switches and signal and clip indicators; phantom power +48 V switch for both inputs; mixing control knob ( between input analogue signals and sound from computer ) and its work mode switch; device's volume control knob and USB and MIDI connections states indicators; TRS ( 1/4″ jack ) monitor headphones output, their volume control and its source switch. On back panel there are placed : Kensington Lock slot; USB port, through which it is powered and communicates with computer ( it has no need in additional power adapter ); MIDI input and output; 4 RCA outputs with nickel-plated connectors; and 2 TRS ( 1/4″ jack ) balanced outputs.

DAC and ADC of Focusrite Saffire 6 dynamic range is 114 dB; accounting full analogue and digital parts, it goes down to 105 dB for analogue to digital conversion and to 103 dB for digital to analogue conversions; ports characteristics are as following : microphone inputs ( signal to noise ratio 105 dB, THD+N 0.0025 % ), linear inputs ( signal/noise 105 dB, THD+N 0.001 %, noise level -90 dB ), instrumental inputs ( signal/noise 105 dB, THD+N 0.0025 %, channels isolation 80 dB ), TRS ( 1/4″ jack ) balanced outputs ( THD+N 0.0025 % ), RCA outputs ( THD+N 0.03 % ) and headphones output ( signal/noise 103 dB ). With device Xcite+ package ( including DAW Ableton Live Lite 8, software synthesizer and sounds samples packages ) and VST/AU plugins package ( among them there are compressor, reverberation, gating and equalizer ) are shipped. For sound card drivers for Windows XP, Vista, 7, 8, 8.1 and 10 with ASIO 2.0 interface support and Mac OS X with Core Audio interface support are released, which allow modern DAWs ( REAPER, Steinberg Cubase, FL Studio, Cackewalk Sonar, Avid Pro Tools, Ableton Live and others ) to use its capabilities to their full extent.
Device sizes are 220 ( width ) x 145 ( depth ) x 45 ( height ) mm and mass is 1 kg; manufacturer does not tell what amount of current device draws, but judging by amount of inputs and functions around 200 – 600 mAh. Package contains : Focusrite Saffire 6 audio interface itself, USB cable, optical disks with drivers and software, warranty card and user's guide. Maximal sampling rate of device is not the highest one, but it has MIDI connectors, balanced outputs and high analogue connectors specifications. So, when there is choice between this sound card and devices of Steinberg, Behringer, ESI, M-Audio, Roland and other manufacturers, there is need to look on their prices and accordance of technical details to specific tasks, for which device is bought.