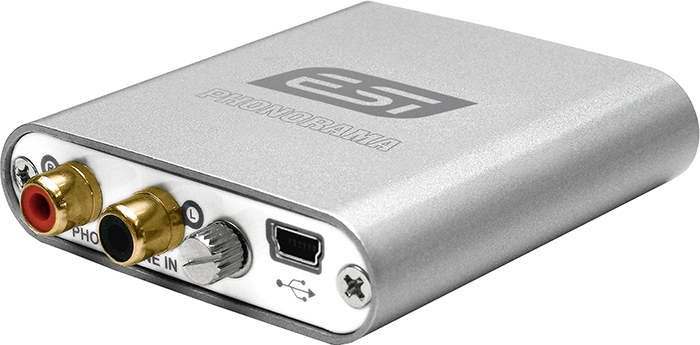 Among ESI devices there are compact audio interfaces, capable to record stereo sound, for example, PHONORAMA, supporting sampling rates up to 96 kHz and 24 bits per sample precision. Its frontal panel has : 2 RCA inputs with gold-plated connectors for stereo sound recording; grounding connector; and Mini USB port for communication with computer and powering. Its back panel has : 2 TRS ( 1/4″ jack ) outputs for headphones and speakers connection or signal passing ( judging by ESI UGM96, only their outer rings are look like gold-plated, but connectors themselves are inside and they are nickel-plated ); and power and peak indicators for right and left channels. To card's inputs preamplifier is connected for signal level increasing.

For ESI PHONORAMA drivers are released for Windows XP, Vista, 7, 8, 8.1 and 10 with ASIO 2.0 interfaces support and for Mac OS X with Core Audio interface support, with which in modern DAWs ( Avid Pro Tools, Ableton Live, Steinberg Cubase, FL Studio, Cackewalk Sonar, REAPER and others ) there is ability to use card's capabilities to their full extent. Cards characteristics are as following : ( THD+N 0.0025 %, 10 kOhms impedance ), with Moving Magnet systems connection ( THD+N 0.03 %, 47 kOhms impedance ), with Moving Coil systems connection ( THD+N 0.08 %, 47 kOhms impedance ), linear outputs ( THD+N 0.0022 %, maximal output power 100 mW and 32 – 600 Ohms impedance ); analogue to digital conversions ( dynamic range 102 dB, S/(N+D) ratio -92 dB ), digital to analogue conversions ( dynamic range 108 dB, S/(N+D) ratio -97 dB, channels isolation 100 dB ). Devices usually consumes 1.1 W of power and 500 mA maximal current; its sizes are 6 ( width ) x 7 ( depth ) x 1.7 ( height ) cm.
Package contains : ESI PHONORAMA sound card itself, USB cable, optical disk with drivers and software, warranty card and user's guide. Audio card is very good for its tasks and in comparison with similar Roland, Behringer and other manufacturers devices, it superior to them in sampling rate and bits per sample precision; wherein ESI devices usually cost less, than audio interfaces of other manufacturers.