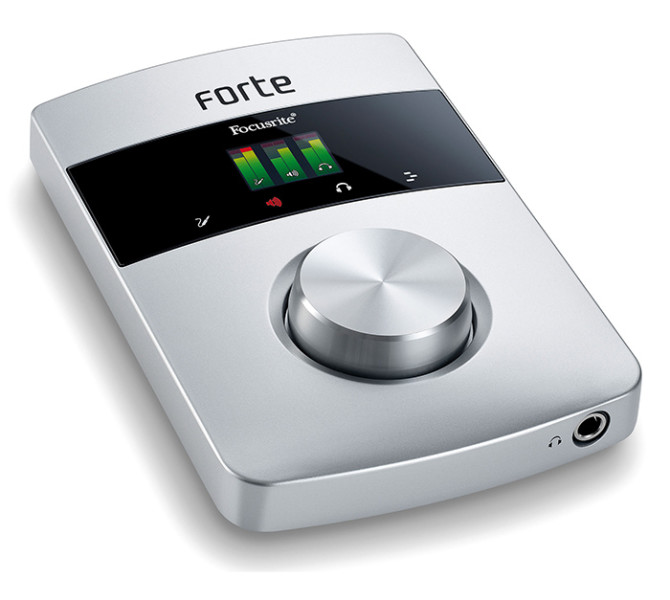 Among products of Focusrite company there is external USB audio interface Forte, having 117 – 118 dB real dynamic ranges. It can work with sampling rates up to 192 kHz and 24 bits per sample precision; to its microphone inputs Focusrite preamplifiers are connected. Its top side has LCD display and work indicators and combined knob-button control; frontal side has TRS 1/4″ jack headphones output. Its back panel has : power adapter input, USB port for communication with computer and powering, loom socket ( allowing to use different kinds of inputs connectors ) and analogue balanced left and right TRS 1/4″ jack linear outputs. Loom connector has XLR and TRS 1/4″ jack inputs for microphones and other signals sources; one of the device sides has Kensington Lock slot. To microphone inputs +48 V phantom power can be separately connected, it is available only with power adapter use; they also can work in instrumental Hi-Z mode.

Chips of Focusrite Forte, handling digital to analogue and analogue to digital conversions work with 120 dB dynamic range; accounting analogue part values for them go down to 118 and 117 dB accordingly, these are very good characteristics for audio interfaces. Card's ports have following characteristics : microphone inputs ( THD+N 0.0007 %, noise level -128 dB ); linear inputs ( SNR -116 dB, THD+N 0.003 % ); instrumental inputs ( SNR -111 dB, THD+N 0.003 % ); analogue outputs ( THD+N 0.0008 % ); headphones output ( SNR 116 dB, THD+N 0.0008 % ); channels isolation is 90 dB. Device is bundled with Focusrite Midnight plugins suite, having VST instruments and effects, and Forte Control application; for it drivers are released for Windows XP, Vista, 7, 8, 8.1 and 10 and Mac OS X with ASIO 2.0 and Core Audio interfaces support, accordingly, via which device can work with modern DAWs : FL Studio, Cackewalk Sonar, REAPER, Avid Pro Tools, Ableton Live, Steinberg Cubase and others. Device body is made from aluminum, its sizes are 170 ( depth ) x 116 ( width ) x 36 ( height ) mm and mass is 476 g.
Package contains : Focusrite Forte sound card itself, USB cable, loom connector, power adapter, warranty card and user's guide. Audio interface is great : it has high sampling rates, precision and dynamic ranges and compact analogue inputs connection; before purchase there is need to look on prices of this device and close audio interfaces of Steinberg, Behringer, Focusrite itself, Roland, M-Audio, ESI and other manufacturers production, choosing the most appropriate one for specific tasks.