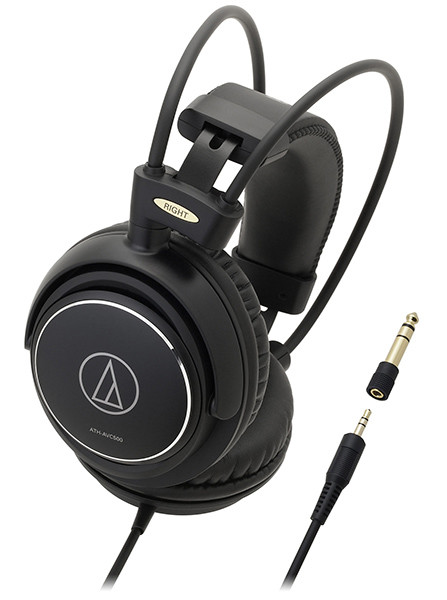 Company Audio-Technica is one of the manufacturers, creating high-quality devices with adequate prices, recently it released new closed-back dynamic monitor headphones ATH-AVC500 with 53 mm membrane and 10 Hz – 25 kHz reproducible sounds frequencies range. Their sensitivity is 106 dB/mW, impedance is 40 Ohms and maximal input power is 1800 mW; manufacturer does not tell which magnets are used, but probably, they are neodymium. To one of the cups 3 m not detachable cable is connected with 1/8″ mini-jack connector ( in package adapter to TRS 1/4″ jack is included ) with gold-plated contacts for connection to sound source, cups themselves are made from aluminum to reduce vibration, headband automatically adjusts for comfortable wearing.
Ears-pads of Audio-Technica ATH-AVC500 are made from soft material for convenient carrying during long-time listening. In cups there are bass ports for high quality and loud low-frequencies reproduction, which allows to made frequency response more even. Headphones are released only in black color variant; they are not foldable, have no microphone and smartphones and volume control buttons, as well as active noise-cancellation function, however they have good noise isolation.
Device's mass is 270 g without cable accounting; package contains : Audio-Technica ATH-AVC500 monitor headphones themselves, 1/8″ mini-jack – TRS 1/4″ jack adapter, warranty card and user's guide. All in all device is very good and has great characteristics; yes, it costs around 80 – 90 USD, but for such headphones this is an adequate price; many other manufacturers would ask 2 – 4 times more for such devices. However, there is ability to find headphones with similar characteristics and smaller price, for example, Superlux HD-681 B.
There is also need to note, that Audio-Technica – is a Japanese company, established in Tokyo in 1962 year, as phonographs cartridges producer. Then it started to develop and introduced among its products microphones and headphones, among which now there are wired and wireless models. At current moment it is one of the leading foreign consumer sound electronics and government organizations devices supplier in USA. And in the country of a rising Sun audio devices are usually made with high quality of components and assembling.