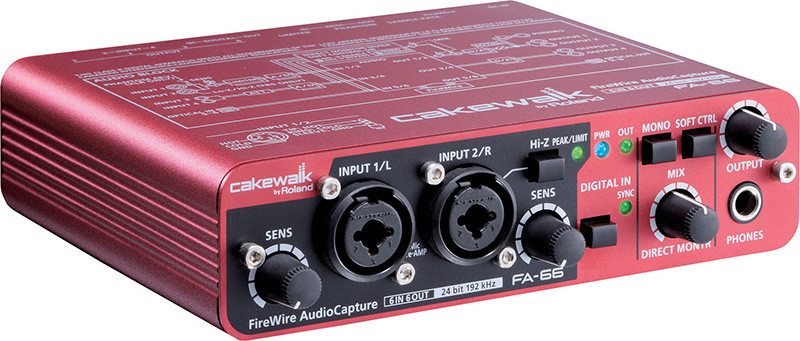 One of the most advanced external audio interfaces of Roland comapany is a FA-66, designed for professional studio work via Firewire connection. It can receive signal from other devices with 96 kHz sampling rate and 24 bits per sample precision, wherein internally signal is converted from digital to analogue and vice versa with 192 kHz frequency. On its frontal panel there are : 2 combined XLR/TRS 1/4″ jack connectors with sensitivity control knobs, instrumental Hi-Z mode switch and clip indicator for second one of them; digital inputs switch with power, output and synchronization indicators; mono/stereo and control switches and volume control knob for Direct Monitor function; TRS 1/4″ jack headphones output and main outputs' volume control knob. To both inputs +48 V phantom power can be connected, they are balanced; device can work in full-duplex mode ( playback and record sounds simultaneously ). On back panel of interface there are : ground connector; power adapter input; Firewire/adapter powering switch; Firewire inputs of different sizes; internal sampling rate switch; phantom power and limiter switches; MIDI input and output; optical digital input and output; 4 balanced TRS 1/4″ jack outputs; 2 RCA gold-plated inputs; and their sensitivity control knob.

Noise level of analogue inputs of Roland FA-66 is -95 dB, signal to noise ratio for outputs is 105 dB, for inputs 102 dB; device can be powered from adapter or Firewire connection and draws 650 mA maximum. In Windows XP, Vista, 7, 8, 8.1 and 10 audio interface works via specialized drivers with WDM and ASIO 2.0 interfaces support; in Mac OS X via built in drivers with Core Audio interface support; via which it works with modern DAWs : Avid Pro Tools, Ableton Live, Steinberg Cubase, FL Studio, Cackewalk Sonar, REAPER and others. Device's body is made from aluminum and has nice rounded corners; its sizes are 164 ( width ) x 148 ( depth ) x 44 ( height ) mm and mass is 0.7 kg.
Package contains : Roland FA-66 audio interface itself, FireWire cables with connectors of different sizes, CD-ROM disk with drivers and different programs, power adapter, warranty card and user's guide. Audio interface is very good with great characteristics and large amount of connectors and functions; wherein there is need to note that FireWire ports are available not in all computers, so, studio computer should have them in order to work with device. It can do the job, which USB audio interfaces can perform ( for example of Steinberg, Behringer, Focusrite, ESI, Roland itself, M-Audio and other manufacturers production ), and among them there are devices equal to it in quality and connectors amounts and types terms. So, here is need to look on devices' prices, accordance of their characteristics to tasks, which interface will perform; and availability of different ports of studio computer.