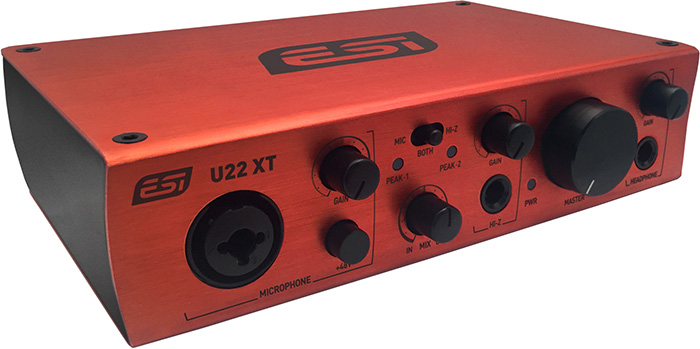 Company ESI recently released new USB audio interface U22XT with support of 96 kHz and 24 bits per sample precision. It has 2 inputs and 2 outputs and it is fully powered from USB connection, without need in additional power adapter. On frontal panel there are : combined microphone XLR/TRS 1/4″ jack input, gain control knob and phantom power +48 V switch for it; instrumental Hi-Z TRS 1/4″ jack input and gain control knob; inputs for use selector microphone/instrumental/both, clip indicators and mix control knob; main outputs volume control knob, power indicator and TRS 1/4″ jack monitor headphones output with volume control. On back panel there are : 2 RCA outputs ( left and right ), inputs selector frontal/back panel; TRS 1/4″ jack balanced left and right linear outputs; Kensington Lock port and USB 2.0 connector for communication with computer and powering.

Dynamic range of analogue to digital conversions of ESI U22XT is 102 dB, digital to analogue : 108 dB; for device drivers are released for Windows Vista, 7, 8, 8.1 and 10 with support of ASIO 2.0, MME, WDM and DirectSound ( +DirectWIRE ) interfaces; in Mac OS X it works without additional drivers with support of Core Audio interface; through them it interacts with modern DAWs : Avid Pro Tools, Ableton Live, Steinberg Cubase, FL Studio, Cackewalk Sonar, REAPER and others. After device connection and its drivers setup its parameters can be controlled through U22 XT Control Panel program, which allows to set separately recording and playback channels volume levels and mute them, if needed. Also it can set latency ( buffer size ) and DirectWIRE connections, which allow to route sound signals between different analogue and program connectors and interfaces.
With device programs Image-Line Deckadance LE and DAW Bitwig 8-Track are supplied. First of them is a DJs' console and mixer, which can work as stand-alone program and as VST plugin with connection to DAW or other program. Second of them is entry-level DAW, which allow to work with sounds and MIDI notes on up to 8 tracks with ability to record analogue audio and connect different VST instruments and effects. Also it has sounds and presets, selected from professional Bitwig Studio Library, and supports automation and built-in Open Controller Scripting API for advanced control and processing. Bitwig 8-Track is a simplified version of Bitwig Studio and takes 5 GB of disk space, it downloads additional modules from Internet during setup. ESI U22XT's sizes are 17.5 ( width ) x 12 ( depth ) x 4.5 ( height ) cm and mass is 0.75 kg, its body is made from polished aluminum with beautiful and offbeat for ESI scarlet color.
Package contain : ESI U22XT audio interface itself, USB-cable, disks with drivers and software, warranty card and user's guide. Interface is good with characteristics, ports and their amount on the level of small studio; there is ability to anticipate adequate price for device, because ESI usually does not overprice its devices, the same way as Steinberg and Behringer do; while Focusrite, Roland and M-Audio can set high price for their devices.
Company ESI was founded in Germany in 2006 year, mainly it produces audio interfaces, loudspeakers and other sound equipment. Its products are notable for high quality and acceptable prices, currently offices and facilities of company are located in a couple of countries of the world.