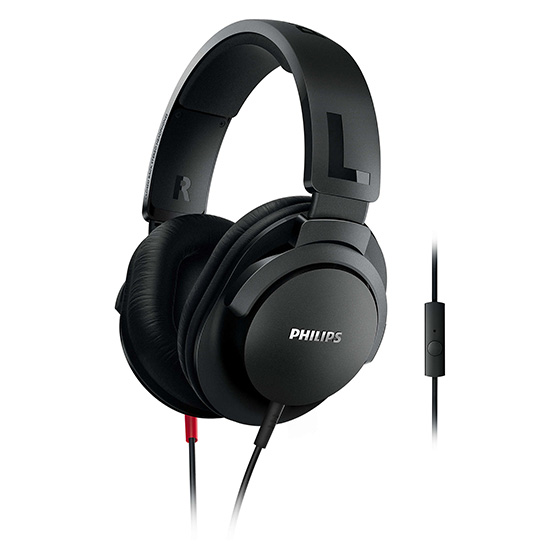 Company Philips released new dynamic monitor headphones SHL2605 with 32 mm membranes, moved by neodymium magnets, support of sound reproduction in 19 Hz – 21.5 kHz frequencies range, closed back architecture and microphone. Their sensitivity is 103 dB, impedance is 24 Ohms and maximal input power is 50 mW. To both cups 1.8 m not detachable cable is mounted with microphone and smartphones control buttons, built into volume control module, and 1/8″ mini jack chrome-plated plug for connection to sound source.
In place of entering into cups wire of Philips SHL2605 additionally reinforced with resin tubes for increased wear resistance and durability during bending and tear off forces application. It has no clip and slider for tangling and clinging to clothes and nearby objects prevention. Headphones are not foldable, they have no active noise-cancellation function, as some other monitor headphones have; each their cup has only 1 audio emitter. Headband and cushions of device are covered with soft material for comfortable wearing during long-time sounds and music listening; it is supplied only in black color variant.
Package contains : Philips SHL2605 headphones themselves, warranty card and user's guide. These are good headphones with wide reproducible frequencies range, neodymium magnets and built-in microphone, there is ability to anticipate, that Philips will not overprice its device; there is also need to note, that there is ability to buy for adequate amount of money 40 and 50 mm monitor headphones of other manufacturers. At the beginning of August of 2016 year they cost approximately 22 USD – it is quite adequate for them price, there is also ability to note, that if from device compactness and small mass are needed, then there is ability to buy in-ears headphones, oriented for use during sportive exercises and trainings and everyday compact use. Wherein their cable is often equipped with clip and slider.
Philips – is a company, which were founded in Dutch in 1891 year; now it has 3 large subdivisions, which develop and produce : consumer electronics, medical equipment and lighting devices. At current moment this is one of the largest companies – producers of electronics, in which around 105000 people work in 60 countries of the world. In electronics area it produces wide range of devices : from kitchen appliances to headphones and smartphones. Philips is notable for producing quality devices, providing proper technical information about them without using of large amounts of psychological marketing and for setting of optimal prices for its goods.