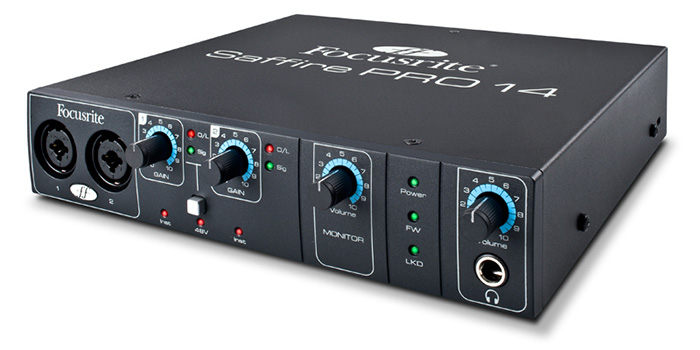 One of the Firewire audio interfaces of Focusrite company is a Saffire Pro 14 – device with 8 inputs, 6 outputs, support of 96 kHz and 24 bits work mode and 2 Focusrite preamplifiers. On its frontal panel there are : 2 combined XLR/TRS 1/4″ jack microphone/linear/instrumental Hi-Z inputs; 2 their gain control knobs with signal and clip indicators; phantom power +48 V switch for both inputs with indicators of its activity and instrumental mode of both inputs; main outputs volume control knob; power, Firewire connection and device locking indicators; as well as TRS 1/4″ jack monitor headphones output. On back panel of device there are : coaxial digital SPDIF input and output; power adapter input; MIDI input and output; Firewire port for connection to computer and powering ( audio interface can work in mobile mode without power adapter ); 4 analogue linear TRS 1/4″ jack outputs; and 2 the same type inputs.

Part of parameters of work of Focusrite Saffire Pro 14 are controlled through Saffire MixControl Application; connectors of device have following parameters : microphone inputs ( THD+N 0.001 %, noise level -124 dB amd impedance 2 kOhms ); linear inputs ( THD+N 0.001 %, noise level -90 dB and impedance more than 10 kOhms ); instrumental inputs ( THD+N 0.004 % and noise level -87 dB ); analogue outputs ( THD+N 0.001 % ); channels isolation is a 100 dB. Dynamic range of analogue to digital conversions is a 109 dB, digital to analogue 106 dB. Audio interface works in Windows Vista, 7, 8, 8.1 and 10 and Mac OS X with support of ASIO 2.0 and Core Audio interfaces, accordingly, via which it works with modern DAWs : FL Studio, Cackewalk Sonar, REAPER, Avid Pro Tools, Ableton Live, Steinberg Cubase and others. With it following software is supplied : Focusrite VST/RTAS/AU ( compressor, reverberation, Gating and equalizer ), DAW Ableton Live Lite 8, AU and VST versions of synthesizer Novation Bass Station and around 1 GB of free samples Loopmasters and Mike the Drummer. Device's sizes are 215 ( width ) x 45 ( height ) x 220 ( depth ) mm and mass is 1.5 kg.
Package contains : Firewire audio interface Focusrite Saffire Pro 14 itself, power adapter, FireWire cable, disks with drivers and software, rubber pads for device, warranty card and user's guide. Interface has high characteristics, wide connectors range and convenient controls, there is also need to note, that among USB audio interfaces of Steinberg, Behringer, Focusrite itself, Roland, ESI, M-Audio and other manufacturers production there are similar and even more functional devices.