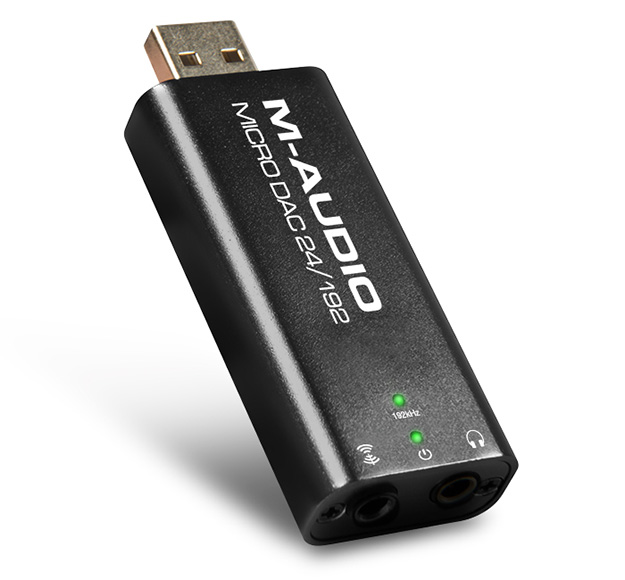 Company M-Audio promises to release this year new compact USB audio interface Micro DAC 24/192 with professional sound ( as it follows from its name, 192 kHz and 24 bits ) and metallic body. It has 1/8″ mini jack output with gold-plated contacts for headphones and speakers, the same type optical digital output, volume control and sampling rate and power indicators. Device powers from USB port.
Package contains : M-Audio Micro DAC 24/192 interface itself, disk with drivers and programs, warranty card and user's guide, as well as optical digital cable for connection of other audio devices. Interface can work in Windows 7, 8, 8.1 and 10 and Mac OS X 10.8 and newer operating systems. Device has sizes 10 ( thickness ) × 70 ( height ) × 24 ( depth ) mm and mass 30 g, it is released only in black color variant.
From one side, device is good and provides high-quality sound for mobile devices : notebooks and tablet PCs, first of all; from the other side, M-Audio, probably, will set high price for this device ( on the middle of Summer of 2016 year is costs 130 USD – this is considerable more, than many entry-level professional studio audio interfaces ). So, it can be useful only if compactness is must have and it, for sure, will not be used for other tasks, than sounds and music listening and conversions of signal into optical digital; if it will be used for other tasks too, then it is better to buy for the same or even smaller sum entry-level studio USB audio interface of Steinberg, Behringer, Focusrite, Roland, ESI, M-Audio, Alesis and other companies production and receive much diverse functionality for professional concert and studio uses or high quality sounds and music reproduction at home.
M-Audio – is a company, founded in USA in 1998 year, it produces audio interfaces, MIDI keyboards, synthesizers, loudspeakers, monitor headphones, DJs equipment, microphones and other sound devices. Company offices are also located in Canada, UK, Germany, France and Japan. Many popular artists use its products, among them there are The Crystal Method, Depeche Mode, Evanescence and others.