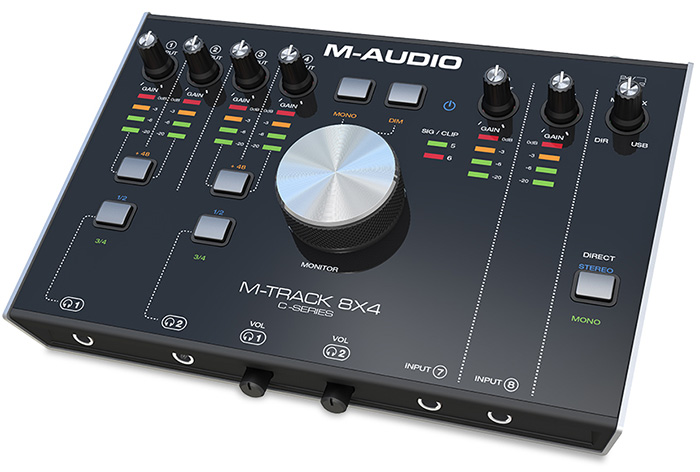 New device of M-Audio company, released in a first quarter of this year, is a USB audio interface M-Track 8×4 with support of 192 kHz and 24 bits work mode, 8 analogue inputs and 4 analogue outputs. On its frontal panel there are : 2 TRS 1/4″ jack outputs for monitor headphones, their volume controls and 2 TRS 1/4″ jack linear inputs. On top side there are : 4 gain control knobs for inputs 1 – 4 with volume and clip indicators, phantom power +48 V switch buttons for these inputs, mono work mode and Direct Monitor switches, sensor power button, volume levels and clip signalization for inputs 5 – 6, gain control knobs with levels and clip indicators for inputs 7 – 8, mixing control between Direct Monitor and USB signal, stereo/mono work mode of Direct Monitor, main volume control knob and channels selectors of monitor headphones.

On back panel of M-Audio M-Track 8×4 there are : power button, grounding connector, power adapter input, USB port, 4 TRS 1/4″ jack analogue outputs, 2 the same type inputs, 4 combined XLR/TRS 1/4″ jack microphone/linear inputs and Kensington Lock slot. With it following programs are supplied : DAW Steinberg Cubase LE, AU/VST effects package AIR Creative FX Collection, AIR Strike, AIR Xpand!2 and AIR Mini Grand. Device works in Windows Vista, 7, 8, 8.1 and 10 and Mac OS X with support of ASIO 2.0 and Core Audio interfaces accordingly, allowing it to interact with modern DAWs : Avid Pro Tools, Ableton Live, Steinberg Cubase, FL Studio, Cackewalk Sonar, REAPER and others. Audio interface's body is made from metal for increased wear resistance and protection from electro-magnetic interference.
Package contains : USB audio interface M-Audio M-Track 8×4 itself, 2 USB cables of different types, disks with drivers and programs, warranty card and user's guide. All in all device is good : it has large amount of connectors, control elements and work modes customization abilities, as well as support of professional 192 kHz and 24 bits; probably, M-Audio will set high price for this USB audio interface, so there is ability to look on other close devices of Steinberg, Behringer, Focusrite, Roland, ESI, M-Audio and other companies production with similar or even better characteristics.