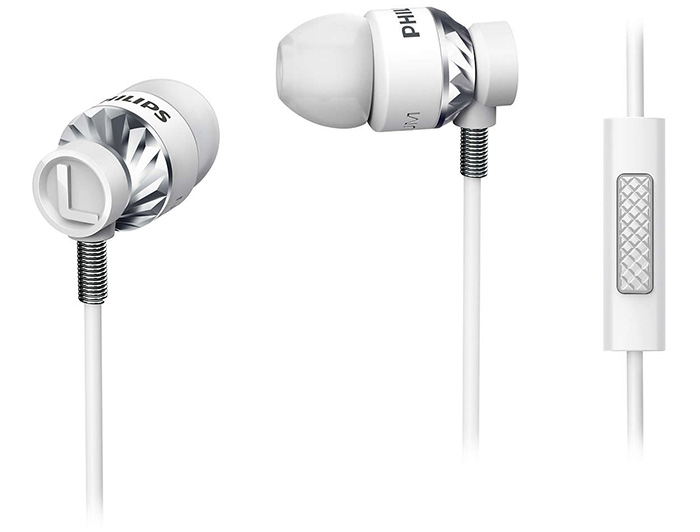 Company Philips continues to release great devices, this time this a 8.6 mm in-ears dynamic headphones SHE5305 with microphone, 10 Hz – 22 kHz sounds frequencies reproduction support, semi-closed acoustic architecture and neodymium magnets. Their impedance is 16 Ohms, sensitivity is 107 dB and maximal input power is 20 mW. Cable with 1.2 m length and 2.5 mm diameter is connected to both cups and is additionally reinforced with metalized wires for increased durability; in its volume control module microphone and smartphones control button ( compatible with Apple iPhone, BlackBerry, HTC, LG, MOTOROLA, Nokia, Palm, SAMSUNG and Sony Ericsson ) are built in. It is plugged to sound source via 1/8″ mini jack connector with gold-plated contacts.
Wire of Philips SHE5305 is not detachable, in places of entering into cups it is additionally reinforced with steel springs for increased toughness and wire resistance against bending and tear-off forces; both cups have only 1 driver in them; headphones have no active noise-cancellation functions, as some monitor headphones have. Philips tells about tweaking of drivers for high-quality and loud basses reproduction, in comparison with other in-ears headphones this is so, but they have long way to go to monitor headphones. Cups of device have curved external form for comfortable long-time wearing.
Headphones are supplied only in black and white color variants, their cups are made from nickel-plated steel for increased durability and reduced chatter during sounds playback. Package with Philips SHE5305 contains : 3 ears-tips pairs of different sizes ( large, medium and small ), warranty card and user's guide. Headphones are great for internal ones : they have wide range of reproducible sounds frequencies, built in microphone and smartphones control button, as well as high sensitivity. They are oriented more on sportive exercises and trainings, as well as every day compact use. There is ability to anticipate, that Philips will not set high price on its device and it can be recommended for purchase in time of appearance in the shops. There is also need to note, that, if there is need in high sound quality, especially in basses area, over compactness, then it is better to buy 40 or 50 mm monitor headphones with approximately the same price, instead of in-ears ones.
Philips – is a company, which were founded in Dutch in 1891 year; now it has 3 large subdivisions, which develop and produce : consumer electronics, medical equipment and lighting devices. At current moment this is one of the largest companies – producers of electronics, in which around 105000 people work in 60 countries of the world. In electronics area it produces wide range of devices : from kitchen appliances to headphones and smartphones. Philips is notable for producing quality devices, providing proper technical information about them without using of large amounts of psychological marketing and for setting of optimal prices for its goods.