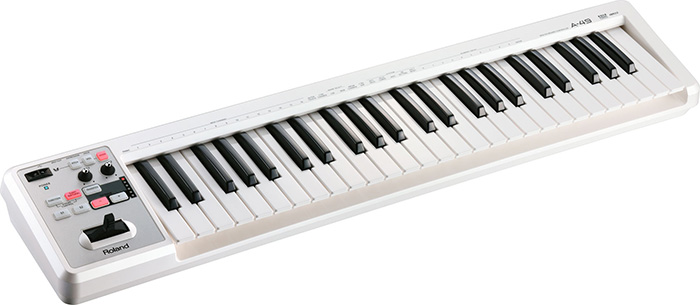 One of USB MIDI keyboard of middle level of Roland company is a A-49 – portable device with 49 velocity-sensitive keys and inputs for Hold and Expression pedals. It also has : 2 assignable buttons, 2 assignable knobs, pitch bend and modulation control lever, buttons for octaves control, programming of other buttons functions and other controllers. On back panel with pedals inputs there are MIDI output and USB port for connection to computer and powering. Also it has power and octaves settings LED indicators.

Roland A-49 draws maximum 98 mA of current and works in Windows XP, Vista, 7, 8, 8.1 and 10 and Mac OS X 10.5 and newer via specialized drivers, which allow it to work with modern DAWs : Avid Pro Tools, Ableton Live, Steinberg Cubase, FL Studio, Cackewalk Sonar, REAPER and others and their VST/AU instruments and effects.
USB MIDI keyboard sizes are 836 ( width ) x 182 ( depth ) x 84 ( height ) mm and mass is 2.5 kg. Package contains : Roland A-49 keyboard itself, USB cable, CD-ROM disk with drivers and software, warranty card and user's guide. All in all, keyboard is good : there is ability to wish for drumpads ( however, with proper setup, keys can be used as them ) and power adapter input for work with tablet PCs and notebooks without load on their battery. There is also ability to look on USB MIDI keyboards of other manufacturers with close keys amount, which can have wider functionality.