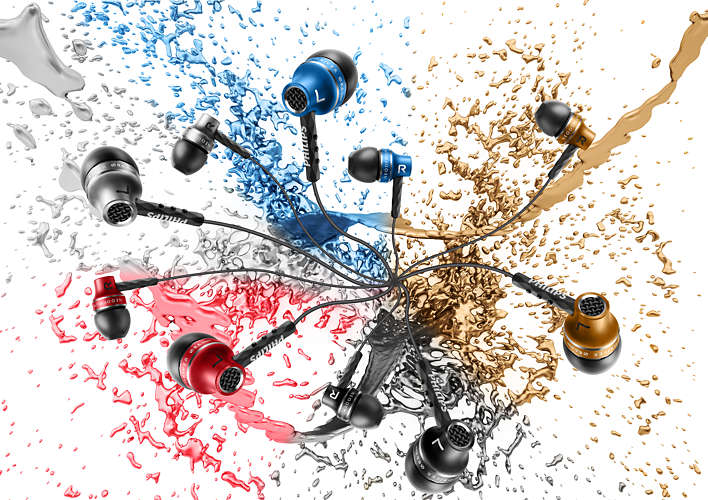 Philips released new dynamic in ears headphones Philips SHE9100 with semi-open acoustic architecture. Their drivers have 8.6 mm diameter and are powered by neodymium magnets, tuned for clear reproduction of high frequencies; they have only 1 driver in each cup. Housing is manufactured from aluminum, which makes sounds reproduction more clear; their diaphragms are made from maylar – form of polyester resin. They can reproduce sounds in 7 – 25000 Hz frequencies range, have 108 dBa / 1 mW sensitivity, their impedance is 16 Ohms and maximal power input is 30 mW. Their cable has 1.2 m length, is mounted to both cups, not detachable and connects to sound source via 3.5 mm gold-plated mini-jack connector, it has slider, which allows to keep cable parts together during movement, and in place of entrance into caps it is additionally reinforced with plastic tubes.
Weight of headphones is 12.5 g, they are supplied in 5 color variants : silver, black, red, blue and orange. They have no active noise cancellation, as some large monitor headphones have. Philips SHE9100 are shipped with eartips of 3 different sizes for comfortable wearing by people with different ears sizes and form of caps is oval, which is more convenient, than circle form. Package contains : Philips SHE9100 headphones themselves, 3 eartips of different sizes for each cap, and user's guide.
Headphones are produced in accordance to ecological standards and have according passport. All in all Philips SHE9100 are oriented on use in trainings, sportive exercises and everyday use in home and outside, however there is need to be cautious with them on the streets to not bump into somebody, listening to the music; their price is around 17 USD. There is also need to note, that for the close price there is ability to buy other in-ears headphones of Philips and other companies production, including ones with microphones and smartphones control buttons. Wherein, if higher quality of all sounds frequencies reproduction is needed, especially in basses area, instead of compactness and lightness, then there is ability to look on 40 and 50 mm monitor headphones, among which there are very interesting models, with comparable price with this model.
Philips – is a company, which were founded in Dutch in 1891 year; now it has 3 large subdivisions, which develop and produce : consumer electronics, medical equipment and lighting devices. At current moment this is one of the largest companies – producers of electronics, in which around 105000 people work in 60 countries of the world. In electronics area it produces wide range of devices : from kitchen appliances to headphones and smartphones. Philips is notable for producing quality devices, providing proper technical information about them without using of large amounts of psychological marketing and for setting of optimal prices for its goods.