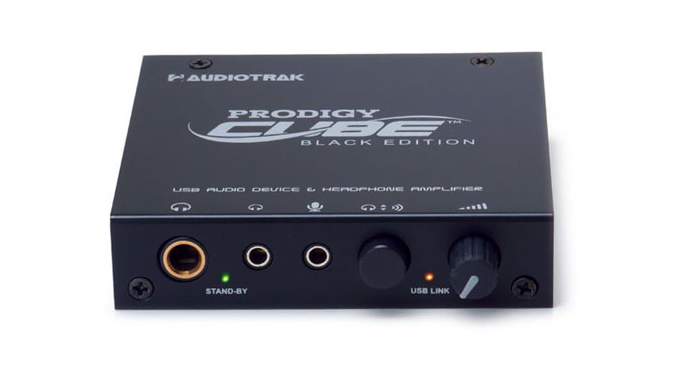 In this article we will describe external professional sound card AUDIOTRAK PRODIGY CUBE BLACK EDITION. It has high quality digital to analogue converter Wolfson, which works on 94 kHz frequency with 24 bits precision, and National Semiconductor LME49860 operational amplifiers ( OpAmps ), which provide high quality sound without addition of noticeable amount of noise. There is ability to replace them on OpAmps of even higher quality, because they are mounted via special socket. Card has built-in electrolytic capacitors Sam Young AHS Series in digital and in most of analogue parts of it; from one side : they have good enough quality, but from the other side : it is better to place into analogue tract ( and into digital also ) high quality ceramic or film capacitors, because they have much better quality and characteristics, than electrolytic capacitors, for audio tract. And only in Low-Pass filters after OpAmps it has film capacitors WIMA Film Capacitor.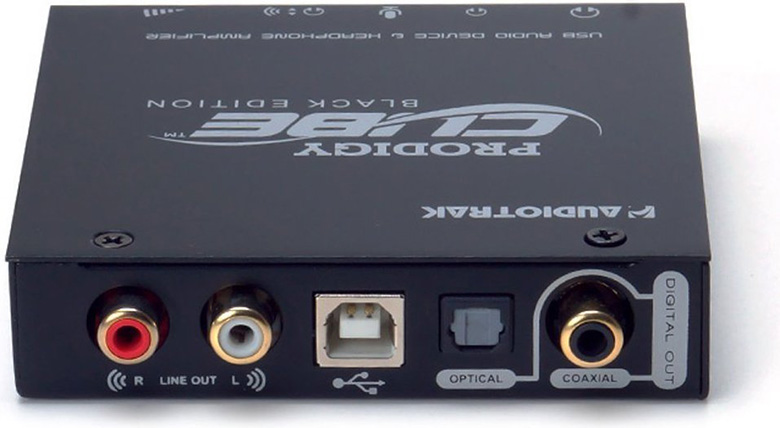 It has : USB connector for signal input and card powering; 3.5 mm mini-jack, 6.5 mm jack and 2 RCA connectors for analogue sound output to headphones or speakers; coaxial and optical digital outputs for signal passing to other devices for processing and playback; microphone input ( card saves recorded sound in 48 kHz and 24 bits format ); output switch; and volume control. Card sizes are : 94 x 90 x 22 mm ( width x depth x height ) and mass is 0.54 kg. It has drivers for following operating systems : Windows 10, 8.1, 8, 7, Vista and XP and Mac OS X.
Dynamic range of AUDIOTRAK PRODIGY CUBE BLACK EDITION is 108 dB, THD+N is 0.00008 %; card can be used for sounds and music playback and for semi-professional work with sound; there is need to note, that AUDIOTRAK is long known for very good devices for semi-professional and professional work with sound. Package contains : AUDIOTRAK PRODIGY CUBE BLACK EDITION sound card itself, 2x RCA cables, USB cable and user's guide.
All in all, this is a good entry-level audio interface, however it is slightly less functional, than modern devices of Steinberg, Behringer, Focusrite, Roland, ESI, M-Audio, Alesis and other manufacturers production. Company Audiotrak currently is an ESI subdivision and produces PCI, PCI Express and USB audio interfaces, loudspeakers, microphones and other sound equipment. Its main office is located in Korea.