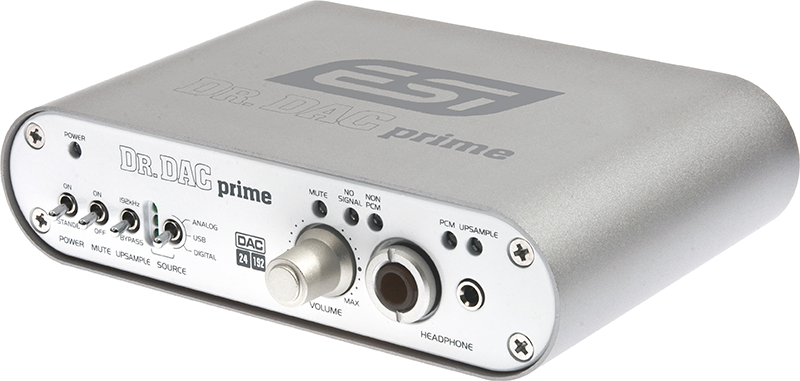 Lets review in audio part external studio audio interface ESI Dr. DAC prime. It has big amount of professional functions and adequate price. Card works with 192 kHz sampling rate and 24 bits precision. Digital to analogue conversion ( DAC ) is performed by TI Burr Brown PCM1796 module, which has 123 dB dynamic range ( this allows to play simultaneously silent and loud sounds and makes sound picture more complete ); next signal is processed by 3 operational amplifiers LME49860NA, which are placed on PCB in sockets and can be easily replaced with others, if needed. Reverse analogue to digital conversion ( ADC ) is performed by AKM AK5386 ADC module with 110 dB dynamic range. Audio interface can playback signal, that it receives via USB port, digital S/PDIF audio connector or from analogue inputs, 2nd and 3rd variants requre additional power from power adapter. Frontal panel of card has : power switch; sound mute switch; upsampling switch ( if input signal has sampling rate less, than 192 kHz, then card can upsample it to this value for further processing or transmitting ); input signal selector ( USB, digital input or analogue inputs ); volume control for headphones; TRS 6.3 mm ( 1/4″ ) jack and 3.5 mm ( 1/8″ ) mini-jack headphones outputs themselves; and LED indicators of card's different functions states.

Card's back panel has : linear analogue RCA inputs and outputs; digital S/PDIF RCA input and output ( they can work with coaxial and optical signal, second variant requires special converter, which is bundled with card ); USB port; power adapter input; and analogue outputs mode switch ( fixed or variable volume level ). All RCA-slots are gold-plated, there is need to use gold-plated plugs with them, so that oxide film will not form in contacts places, which decreases connection quality. Sound card is automatically recognized by Windows XP, Vista, 7, 8 and 10 and Mac OS X operating systems; also ASIO 2.0 drivers are released for it for Windows, via which it can work with modern DAWs Cackewalk Sonar, REAPER, Avid Pro Tools, Ableton Live, Steinberg Cubase, FL Studio and others with low latency. Card sizes are : 150 ( width ) x 104 ( depth ) x 38 ( height ) mm. Package contains : ESI Dr. DAC prime sound card itself, power adapter, USB cable, optical S/PDIF signal converter, optical disks with drivers and software and user's guide.
Based on description and my experience of work with ESI devices, there is ability to say, that this is good card with adequate price, which is oriented for playback and recording of already completed signal, because it has no microphone and instrumental Hi-Z inputs and MIDI connectors. Its pluses are 192 kHz sampling rate and professional hardware, that is set in it. Wherein, it is worth purchasing, if it will be used for the purpose, for which it is designed, because there is ability to buy for the same price more universal studio audio interface, which will perform all professional functions.