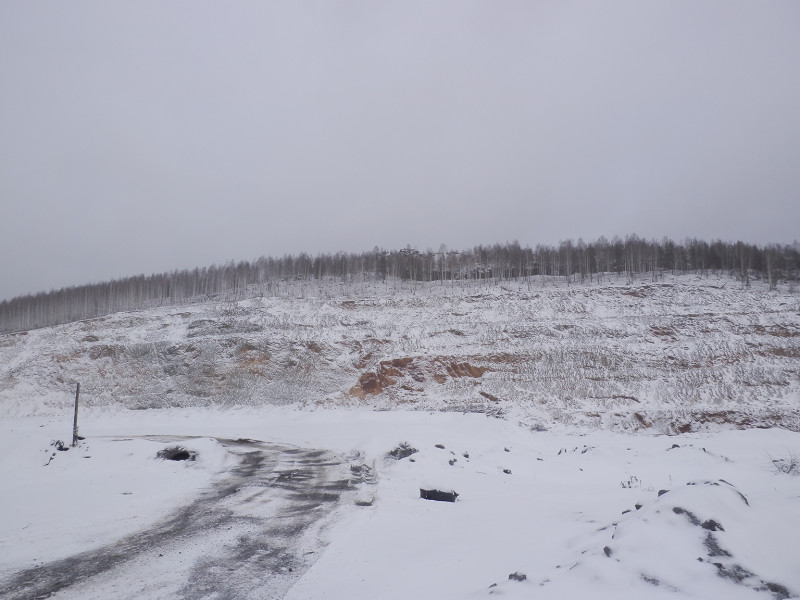 From the Shunuth She-wolf mountain, or slag hills near Degtyarsk are visible, I rode to them for exploration. At the beginning of a day it was cloudy and cold on the streets. Polevskoy highway is still not prepared for winter : it is not cleared from snow and not covered with salt, so, I rode on it carefully and with small speed, without problems I arrived to turn to Degtyarsk and Revda near Kurganovo and rode on this road. Strong west wind with snow in the face blew above it, road is full of uphills and downhills, but even on downhills wind slowed down movement speed, snowy landscapes and few still not frozen rivers swept nearby. I arrived to Degtyarsk – it is small mining city with ore mining plants, slag hills and quarries in it. Roads are narrow and are covered with snow in it, heavy cars often move on them, so, often I rode on the roads sides. On the way, chain started to freeze in cold and on wind and acquired a wavy form, because of this it started to try to jump from 2nd gear to 3rd one on the frontal system, with periodical slipping and falling inside, this made ride harder and longer and there often was need to ride on the first one frontal gear. Quickly I rode through the city and came to road to Revda : this snowy day asphalt-laying machines stood on it. On the way there is turn to the East with block-post and fence near it, which leads uphill to some industrial quarry and near which heavy cargo cars often move.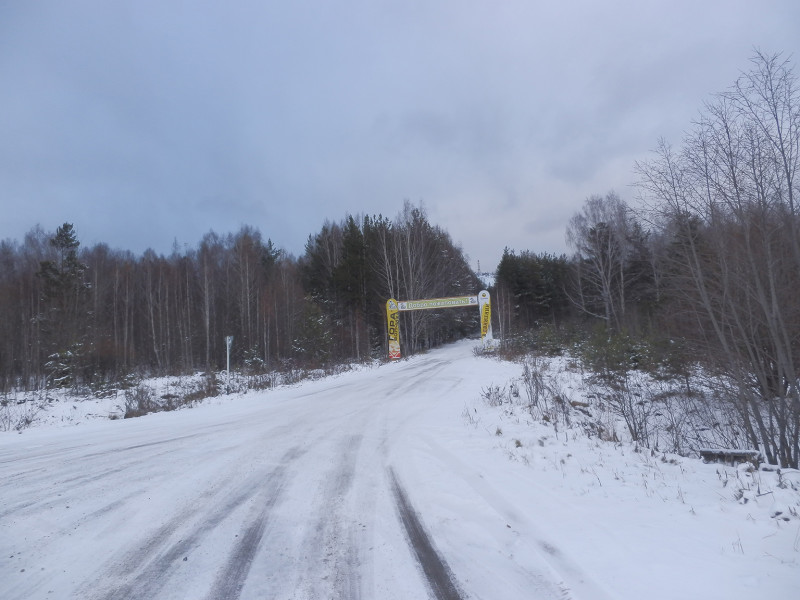 Next, entrance to Revda city goes on, on which wind, no longer chained with forest and hills, shows his full strength and fury, almost fully stopping me with the bicycle on downhills : city is open and there are lakes near it, so wind gains high speed and strength above them. Quickly I rode to turn to the She-wold mountain, I did not ascend on it this day, otherwise I would completely miss concert in Yekaterinburg, so, I'll ride to it next Spring, when roads will melt and will be more easily rideable. Maybe from She-wolf Fun mountains are visible, Konzhak unlikely visible from them, but I'll look in that direction anyway and next I'll find where to look.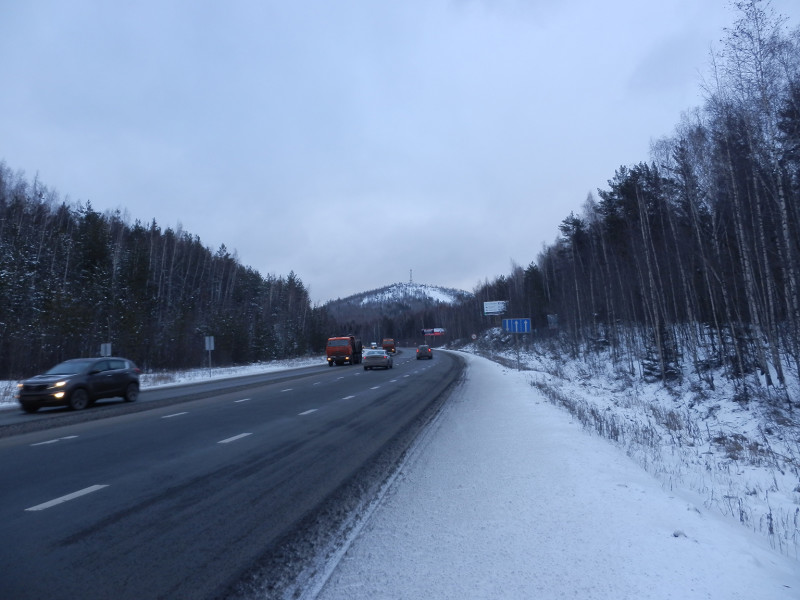 Road in this area periodically narrows and widens, giving ability to ride at high speed on a highway. Near Revda one of the drivers signaled to me in my support, I smiled in reply and rode further. Medicine and Emergency center with ready to take off helicopters is located near the road. All in all 40 km from Revda did not caused any difficulties, Sun even looked through the clouds and lit snowy landscape for a while. When I approached Yekaterinburg, it was already dark and city lighting appeared above horizon, on the entrance in city street and buildings lights met me : ride in the city at dark time with such lighting is one of the biggest pleasures in the life. I rotated pedals as I can, because DO and warmth waited me ahead. On the way to CK Ural I visited a couple of places for my own businesses and arrived to CK itself, I missed first part, but ride was worth it and 2nd and 3rd parts were interesting. This day Different Orchestra played "5 years" concerto, it turned so, I give my congratulations by the way, compositions of different genres and styles were played on the concert and orchestra prepared mix of a most, what it played before. Trip-hop, drum and bass and rap styles compositions were played and works of Depeche Mode and Sansara, Kurara and Ek-Playaz were performed, with participation of 2nd, 3rd and 4th ones. What was in a first part, I do not know for now, but soon videos will be uploaded and I'll learn from them what I missed.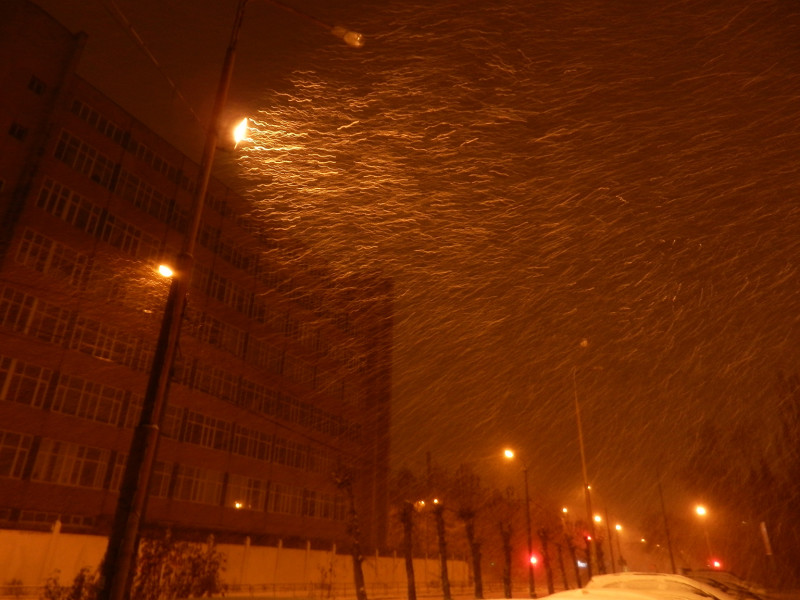 After concert I dressed my hiking ammunition and went to my bicycle, snowfall started on the streets and it became warmer, horse cold, waiting for me, but I quickly heated him up, ride through the night city, still full of activity, and I'm on the Polevskoy highway in the company of periodically riding nearby cars. On the downhills on biggest frontal gear chain straightened and stopped attempts to jump to other gears and slip. Pedals rotating and Mountain Shield, railway bridge, Kurganovo and turn to Degtyarsk and Revda, on which I rode whole eternity ago, pass nearby. And so I arrived to Polevskoy ( Jupiter, Venus and Mars rose on the East ) and to my home, at last, ate food, warmed myself and went to sleep. This day I rode 160 snowy, windy and cold kilometers. In real Urals freezes I'll ride on bicycle mostly in Polevskoy, because on such distances technics can not withstand. See you on the next bicycles adventures!
During a week I'll upload rest of videos.