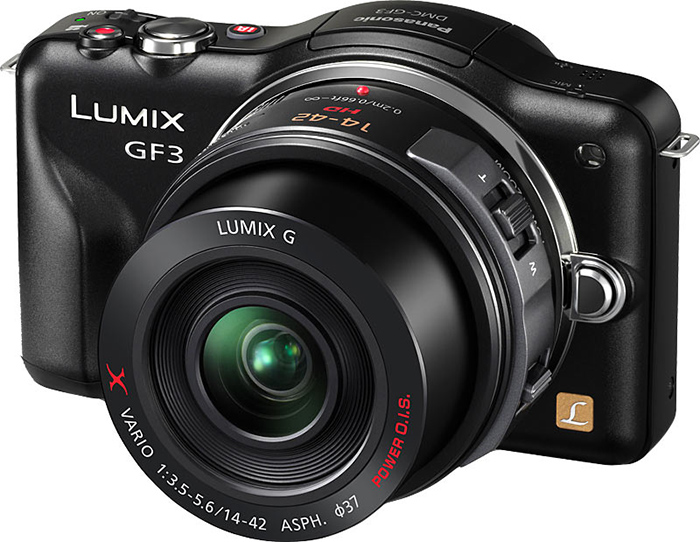 Lets review compact mirrorless photo camera Panasonic Lumix DMC GF3 with Micro Four Thirds mount for interchangeable lenses. Its 4/3″ Live MOS sensor has 12.1 MP resolution; it has built in optical image stabilization with lenses, that support it. It can make photos with ISO 160 – 6400 sensitivity levels and save them in JPEG and RAW formats; camera records video in Full HD 1920 x 1080 50i and HD 1280 x 720 50p formats ( from sensor data comes with 25 fps frequency ) and saves them in AVCHD and Motion JPG formats, wherein it records only mono sound signal and has no external microphone input and Hot Shoe connector. 3″ touch screen has 460 K dots resolution, it has built in flash and has no built in viewfinder. Image is processed by Venus Engine FHD graphical processor.

It saves photo and video on SD, SDHC and SDXC flash memory cards and does not support Wi-Fi connections for remote data transferring and control. It has following connectors : USB 2.0 for data transfers and Li-ion battery charging, HDMI Mini Type C and AV output; 1 charge of battery is enough for 320 photos. Camera supports automatic and manual focus, exposure and diaphragm settings, it can be used for astronomical photos making. Panasonic Lumix DMC GF3 works in 0 – 40 on Celsius temperatures range and in 10 – 80 % relative air humidity levels; its sizes are 108 ( width ) x 67 ( height ) x 32 ( depth ) mm, mass 225 g ( only camera body without lens, battery and memory card ).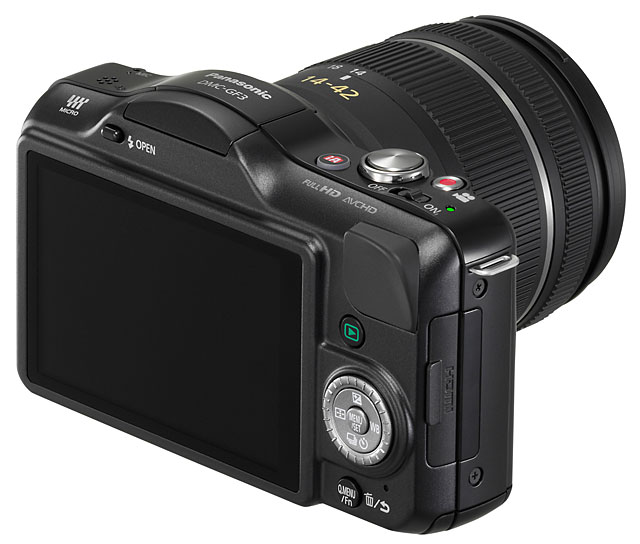 Package contains : Panasonic Lumix DMC GF3 camera itself, USB cable, Li-ion battery, strap on hand, optical disks with software and user's guide; there are also kits with bundled lenses. From one side : this is a very good compact mirror-less camera with interchangeable lenses, which gives great photos and videos quality; from the other : it records only mono sound and has no specialized microphone input and Hot Shoe connector. So, this camera should be chosen only if videos recording is only its additional use to photos making and there is no need in stereo sound.