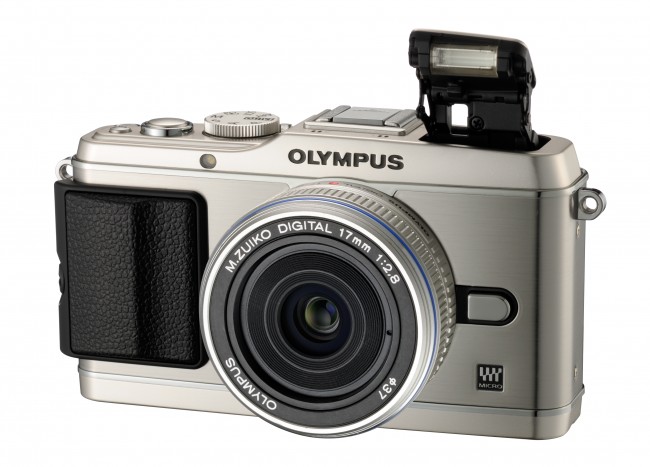 Lets review today compact mirror-less photo-camera Olympus PEN E-P3 with interchangeable lenses for Micro Four Thirds mount and 4/3″ High speed Live MOS sensor with 12.3 MP effective resolution. Camera can shoot photos with 4032 x 3024 pixels maximal resolution ( with ISO 200 – 12800 sensitivity levels ) and save them in JPEG, RAW ( with 12 bits per channel precision and lossless compression ), RAW+JPEG and MPO formats in sRGB and Adobe RGB color spaces. It records videos in Full HD 1920 x 1080 60i, HD 1280 x 720 60p and SD 640 x 480 30 modes and saves them in AVCHD or AVI Motion JPEG formats with Dolby Digital or Stereo PCM 16 bits and 48 kHz sound recording formats, accordingly. Image is processed by Dual-core TruePic VI processor. Camera has sensor-shifting image stabilization, built-in flash, 3″ OLED screen with 614 K dots resolution; and have no built-in viewfinder.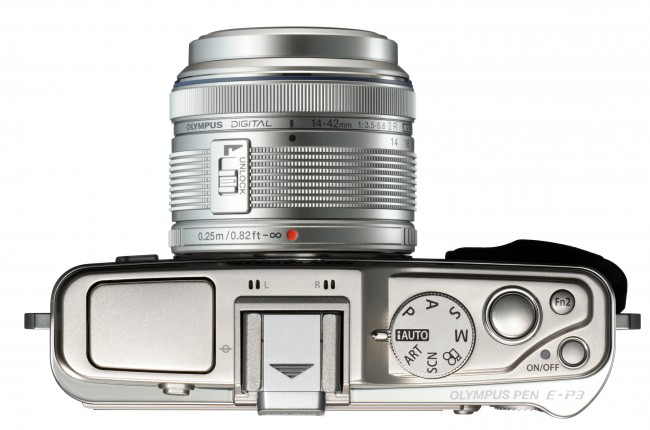 It supports automatic and manual focus, exposure and diaphragm settings, so, it can be used for astronomical photos making; its noise reduction system can be switched off or camera can control it in automatic mode. There is ability to control it via wired remote control; it has no Wi-Fi connections support for remote data transfers and control of camera; and saves photo and video on SD, SDHC, SDXC ( UHS-I compatible ) and Eye-Fi flash memory cards. It has following connectors : USB 2.0 for photos and videos transferring and Li-ion battery charging, AV output, Mini HDMI type-C, Hot Shoe and Accessory Port ( AP2 ); one charge of its battery is enough for 330 photos making. Its body is made from metal, frontal plastic panel can be removed, if needed; its sizes are 122 ( width ) x 69 ( height ) x 36 ( depth ) mm and mass is 321 g ( only camera body without lens, memory card and battery ). It can work in 0 – 40 degrees on Celsius temperatures range and 30 – 90 % relative air humidity range.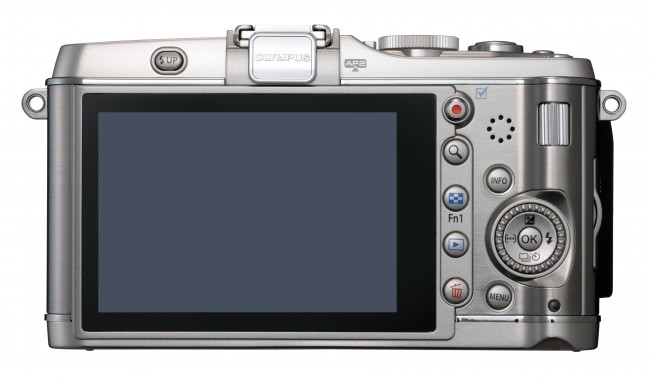 Package contains : Olympus PEN E-P3 camera itself, Li-ion battery, its charger, USB/Video multi cable, optical disk with OLYMPUS Viewer 2/ib software, warranty card and user's guide; there are kits with 1 – 2 included lenses. This is a great compact mirror-less photo-camera with very good photos quality and good video quality and large amount of specialized controls. Its weak side is only sometimes wrong light temperature determination under artificial lighting; this can be solved by its manual setting in such situations.