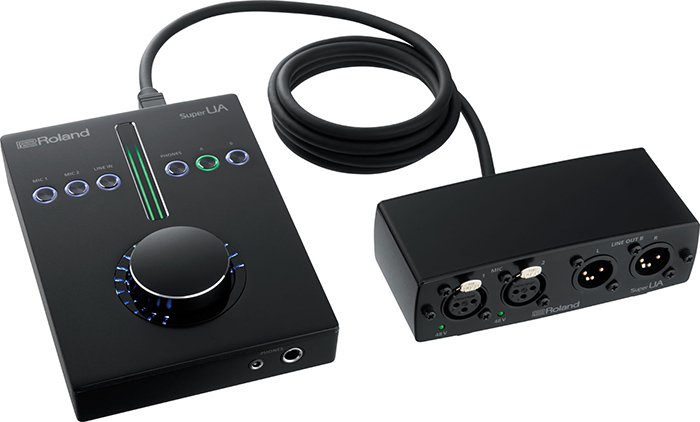 Company Roland released compact audio interface Super UA for recording and playback of sound with support of 352.8 kHz sampling rate and 32 bits per sample precision. With such frequencies it communicates with computer, internal digital to analogue and analogue to digital conversions are performed with sampling rates up to 192 kHz. On its frontal panel 1/4″ jack and 1/8″ mini-jack headphones outputs are placed; on top side : buttons for microphone inputs 1 and 2, linear input, headphones outputs and linear outputs work modes control, volume control knob and signal levels indicators. On device's back panel there are : power adapter input, ground connector, USB port for communication with computer and powering, additional module connector, left and right TRS 1/4″ jack linear outputs and the same type left and right linear inputs. On additional module there are : 2 XLR microphone inputs with +48 V phantom power indicators and 2 XLR linear outputs. Analogue inputs and outputs of device are balanced.

Ports of Roland Super UA have following characteristics : maximal headphones output power 200 mW + 200 mW for 40 Ohms headphones and 65 mW + 65 mW for 300 Ohms headphones; analogue connectors noise level is -96 dB; linear inputs have 112 dB dynamic range, microphone inputs 111 dB and linear outputs 118 dB. Maximal current draw by device is 1000 mA; sizes of main module are 115 ( width ) x 161 ( depth ) x 44 ( height ) mm and mass is 490 g, of additional module 136 ( width ) x 65 ( depth ) x 42 ( height ) mm and 360 g. For sound card drivers are released for Windows 7, 8, 8.1 and 10 and Mac OS X 10.8 and newer operating systems with ASIO 2.0 and Core Audio interfaces support, accordingly, through which it can work with modern DAWs : Avid Pro Tools, Ableton Live, Steinberg Cubase, FL Studio, Cackewalk Sonar, REAPER and others; device can also work in DSD mode.
Package contains : Roland Super UA external sound card itself, power adapter, USB cable, warranty card and user's guide. Audio interface is very good : high sampling rates and precision, balanced inputs and outputs and large amount of connectors; here is need to look on its price, quite possible, that audio interfaces of Steinberg, Behringer, Focusrite, M-Audio, ESI and other manufacturers production are better money investment, because for small and medium sized studios 96 – 192 kHz sampling rates and 24 bits per sample precision are enough.