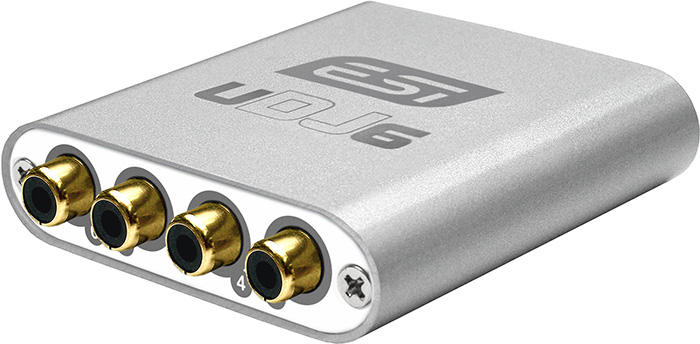 Company ESI has USB audio interface UDJ6, oriented on playback of 6 sound channels ( mainly this is needed on live performances ) and able to work with 96 kHz sampling rate and 24 bits per sample precision. On frontal panel of device 4 RCA gold-plated outputs are placed, on back panel : USB port for communication with computer and powering, power indicator and TRS 1/4″ jack headphones output ( its contacts are inside and they are nickel-plated ). Audio interface works with maximal sampling rate only with 2 channels, with larger channels amount it works with sampling rates up to 48 kHz.

ESI UDJ6 has following characteristics : output signal level -10 dB, 100 Ohms impedance, digital to analogue converter works with 112 dB dynamic range and THD+N -94 dB, headphones output ( maximal power 60 mW, signal to noise ratio 110 dB and ( THD+N )/S -70 dB, 0.03 % ); device is powered from USB port and draws maximum 250 mA. Audio interface works in Windows XP, Vista, 7, 8, 8.1 and 10 via specialized drivers with ASIO 2.0, GSIF, MME, WDM and DirectSound interfaces support and in Mac OS X 10.4 and newer via built-in drivers with Core Audio interface support; via them device works with modern DAWs ( Avid Pro Tools, Ableton Live, Steinberg Cubase, FL Studio, Cackewalk Sonar, REAPER and others ) and applications for DJs. It sizes are 6 ( width ) x 7 ( depth ) x 2 ( height ) cm.
Package contains : ESI UDJ6 audio interface itself, USB cable, optical disks with drivers and Image-Line Deckadance v2 LE program, warranty card and user's guide. Audio interface is good, but it has narrow specialization and here is need to look on its price and prices of audio interfaces of Steinberg, Behringer, Focusrite, Roland, M-Audio and other manufacturers : among them can be interfaces with the same or larger amount of analogue audio outputs, much wider functionality and the same or even lower price.