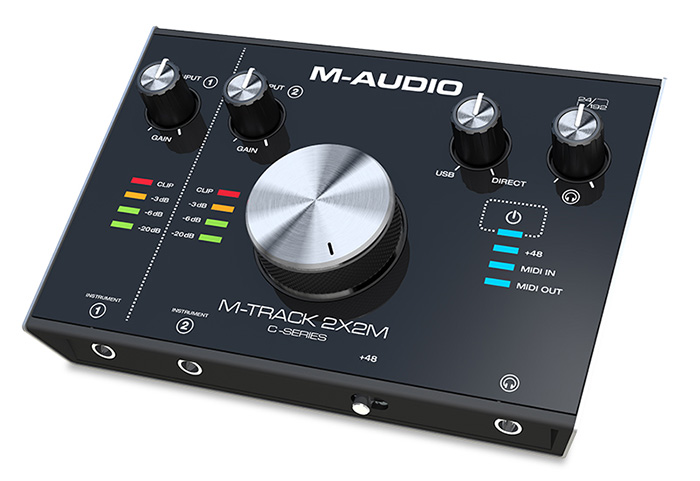 Among new devices of M-Audio there is a USB audio interface M-Track 2X2M with support of 192 kHz and 24 bits work mode, 2 inputs and 2 outputs. On its frontal panel there are 2 instrumental Hi-Z TRS 1/4″ jack inputs, phantom power +48 V switch button for microphone inputs and TRS 1/4″ jack output for monitor headphones. On top there are : 2 gain control knobs with levels and clip indicators; main outputs volume control; headphones volume control, their inputs selector Direct Monitor/signal from computer, switch on button and indicators of power, phantom power and MIDI input and output states. On back panel there are : Kensington Lock slot, USB for connection to computer and powering, MIDI input and output, main left and right TRS 1/4″ jack linear outputs and combined XLR/TRS 1/4″ jack balanced microphone/linear inputs.

For M-Audio M-Track 2X2M drivers are released for Windows 7, 8, 8.1 and 10 and Mac OS X 10.8 and newer with support of ASIO 2.0 and Core Audio, through which it works with modern DAWs : FL Studio, Cackewalk Sonar, REAPER, Avid Pro Tools, Ableton Live, Steinberg Cubase and others. With audio interface following programs are supplied : AIR Creative FX Collection ( containing 20 AU/VST effects ), AIR Strike, AIR Xpand!2, AIR Mini Grand and DAW Steinberg Cubase LE.
Steinberg Cubase LE – is a simplified version of more professional DAW of this company, it allows to record, play, edit and mix audio and MIDI signals on 16 audio tracks, 24 MIDI tracks, 8 instruments and 8 physicsl inputs with precision up to 192 kHz and 24 bits. In it HALion Sonic SE instrument is included and set of 18 effects, among which there are modulation, delay, equalizer and others. AIR Mini Grand is a virtual piano instrument with 7 models of instrument and built in room simulation, in which it works. AIR Strike – is a drum machine with advanced sound engine, synthesizing drums sounds and rhythms from samples, recorded in WAV and AIFF formats; it allows to simulate surrounding parameters and virtual microphones, which perceive drums sounds. Also it has compressor with equalizer and 2 inserts on each channel and allows to export audio and MIDI signals. AIR Xpand!2 – is an advanced instrument with more than 25000 instruments presets, it can simulate up to 4 stereo instruments at the same time, contains 2 DSPs ( Digital Signal Processores ) and individual arpreggiator for each instrument. It supports many sound synthesis techniques : subtractive synthesis, FM synthesis, tone wheels and samples playback.
In the package with M-Audio M-Track 2X2M there are : USB cable, warranty card and user's guide. All in all interface is good, but M-Audio can set high price on it, when it will appear in shops, due to its novelty, in this case there is ability to look on similar audio interfaces of Steinberg, Behringer, Focusrite, Roland, ESI, M-Audio itself and other manufacturers production. On the middle of Summer 2016 its price is set in the range 100 – 110 USD.
M-Audio – is a company, founded in USA in 1998 year, it produces audio interfaces, MIDI keyboards, synthesizers, loudspeakers, monitor headphones, DJs equipment, microphones and other sound devices. Company offices are also located in Canada, UK, Germany, France and Japan. Many popular artists use its products, among them there are The Crystal Method, Depeche Mode, Evanescence and others.