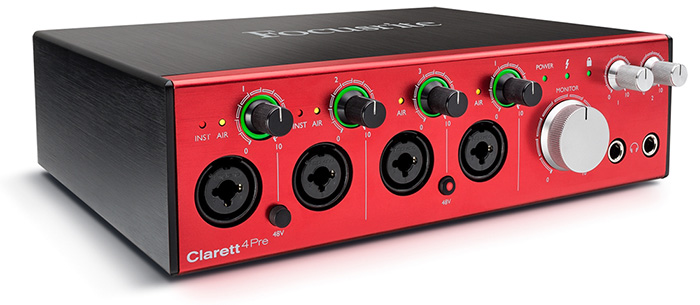 Company Focusrite released new Thunderbolt audio interface Clarett 4Pre with support of 192 kHz and 24 bits work mode and 119 dB dynamic range. On its frontal panel there are : 4 combined XLR/TRS 1/4 jack microphone/instrumental Hi-Z/linear inputs with gain control knobs with backlight and instrumental mode and Air function activity indicators; buttons with backlight for phantom power +48 V switching for 1 – 2 and 3 – 4 inputs; main outputs volume control knob; power, Thunderbolt connection and device blocking indicators; as well as 2 TRS 1/4 jack monitor headphones outputs with volume control knobs. On its back panel there are : power button; power adapter input; RCA coaxial digital S/PDIF input and output; Thunderbolt port for connection to computer; digital optical ADAT input; MIDI input and output; Kensington Lock slot; 4 TRS 1/4 jack linear outputs; and 4 the same type linear inputs.

Dynamic range of microphone inputs of Focusrite Clarett 4Pre equals to 118 dB, THD+N 0.001 % and noise level is -128 dB; linear inputs have the same dynamic range and THD+N; instrumental inputs dynamic range is 116 dB and it has the same THD+N. THD+N of linear and monitor outputs is a 0.0007 % and dynamic range of frist ones is a 119 dB and second ones is a 117 dB; dynamic range of monitor headphones outputs is a 116 dB and THD+N equals to 0.0008 %. Currently interface works only in Mac OS X 10.9 and newer with support of Core Audio interface; manufacturer promises to add Windows support in near time; through this interface device interacts with modern DAWs : Avid Pro Tools, Ableton Live, Steinberg Cubase, FL Studio, Cackewalk Sonar, REAPER and others. With it following programs are supplied Focusrite Control ( mixer ), VST/AU plugins suite Softube Time and Tone Bundle and AAX, AU and VST plugins Red 2 and Red 3, emulating compressor and equalizer.
Package contains : Thunderbolt audio interface Focusrite Clarett 4Pre itself, disks with drivers and software, warranty card and user's guide. Audio interface is great : it has large amount of connectors, high audio characteristics and quality equipment; there is need to note, that interface is mainly designed for large amount of digital connections for mixing of digital signals into completed analogue. If such amount of digital connections is not needed, then there is ability to buy much cheaper USB audio interface of Steinberg, Behringer, Focusrite, Roland, ESI, M-Audio and other companies production.