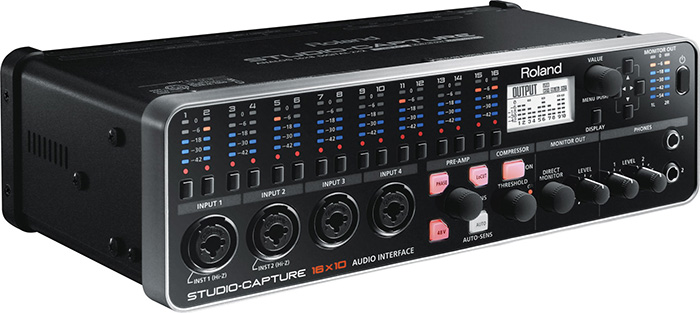 One of the most functional audio interfaces of company Roland is a USB dvice STUDIO-CAPTURE : professional studio interface with support of 192 kHz and 24 bits work mode, 16 inputs, 10 outputs and 12 VS PREAMPs. On its frontal panel there are : 4 combined XLR/TRS 1/4″ jack inputs ( 1 and 2 are instrumental Hi-Z inputs ), state indicators of all 16 inputs of interface with control buttons; preamplifiers control block, consisting of gain control knob and buttons for control of phase, LoCut filter, Auto-SENS function and phantom power +48 V enabling for microphone inputs; compressor control block with enabling button, Threshold setting knob and activity indicator; Direct Monitor control block with enabling button and volume control; 2 TRS 1/4″ jack outputs for monitor headphones and their volume control knobs; display with device's parameters, buttons for menu control, Direct Monitor volumes indicators and power button. On back panel there are : power adapter input, USB Type-B port for connection with computer, MIDI input and output, coaxial digital RCA input and output, 8 TRS 1/4″ jack balanced linear outputs, monitor XLR outputs ( left and right ) with volume control enabling button, ground connector, 4 TRS 1/4″ jack inputs and 8 additional combined XLR/TRS 1/4″ jack inputs. All inputs of device are balanced, it is powered from power adapter.

Noise level of Roland STUDIO-CAPTURE when inputs and outputs are connected is -90 dB, dynamic range of analogue to digital conversion is 105 dB, digital to analogue : 114 dB, these are good characteristics for audio interfaces. Device draws maximum 1.6 A current, for it drivers are released for Windows XP, Vista, 7, 8, 8.1 and 10 and Mac OS X with support of ASIO 2.0 and Core Audio interfaces, accordingly, which allow it to work with DAWs : Avid Pro Tools, Ableton Live, Steinberg Cubase, FL Studio, Cackewalk Sonar, REAPER and others. Device's sizes are 284 ( width ) x 162 ( depth ) x 89 ( height ) mm and mass is 1.9 kg, its body is made from aluminum.
Package contains : Roland STUDIO-CAPTURE audio interface itself, USB cable, power adapter, CD-ROM disk with drivers, 2 rack mount angles, warranty card and user's guides. Interface is very good and functional and delivers for studio all necessary connectors and functions with high components quality; there is also ability to look on top-level devices of Steinberg, Behringer, Focusrite, Roland itself, ESI, M-Audio and other manufacturers production; for small studios there is no need in such amount of connectors and there is ability to buy audio interfaces of these manufacturers with smaller amount of them for smaller price.