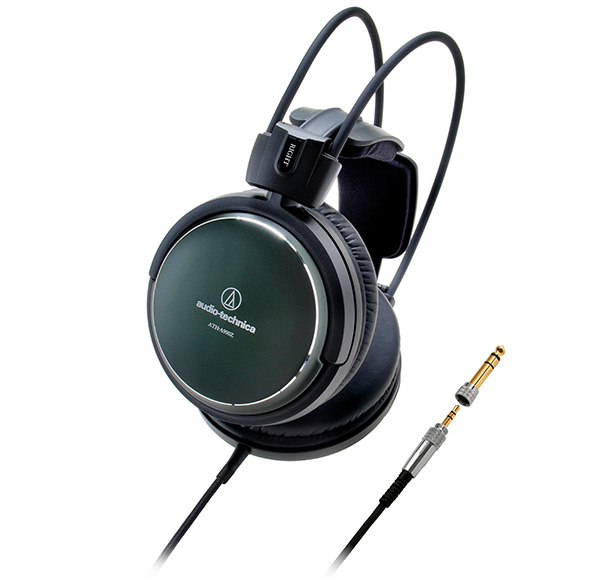 Novelty of even more professional level of Audio-Technica company is a 53 mm monitor dynamic headphones ATH-A990z with 5 Hz – 42 kHz sound frequencies playback support, 2000 mW max input power and closed acoustic architecture. Their sensitivity is 100 dB/mW, impedance is 44 Ohms and mass is 335 g. Cable has 3 m length and is connected to sound source via 1/8″ mini jack plug with gold-plated contacts, it is attached to only one of the cups and is not detachable. Headband has automatic adjustment mechanism for listeners with different heads sizes; cushions are made from soft material for comfortable wearing over long time.
Headphones Audio-Technica ATH-A990z are not foldable, in each cup they have only 1 driver; manufacturer does not tell which magnets are used in device, but, the most probably, they are neodymium magnets; headphones are created with use of Double Air Damping System technology, allowing to better and more loudly reproduce basses due to their resonance in body of cups. Device has no active noise-cancellation function, as part of other monitor headphones have, but they have good noise isolation. In place of entering into cup cable is additionally reinforced with resin lining for increased durability and wear resistance during bending and tear-off forces applications. Cable has no built-in microphone and smartphone and volume control buttons.
Body around membranes of Audio-Technica ATH-A990z is made from aluminum for reduced chatter during audio playback; manufacturer tells about implementation of additional measures for Amplitude-Frequency Characteristic equalization : basses pumping up and high-frequencies normalization. Package with Audio-Technica ATH-A990z headphones contains : screw-on adapter to 1/4″ jack connector also with gold-plated contacts, warranty card and user's guide. As most of the devices of Audio-Technica company, ATH-A990z are designed for professional studio use and have excellent characteristics for this; their price corresponds to this : 200 – 280 USD, and is not overly high for device of such level. For everyday high-quality sounds and music listenning such characteristics are not needed and there is ability to buy much cheaper consumer-level 40 or 50 mm monitor headphones. Also, if compactness and lightness are needed the most, then there is ability to look on in-ears headphones, which do not reproduce sounds as good, as monitor headphones, especially basses, but have small sizes and mass, which is the most needed during sportive exercises and trainings; also this type of headphones often have slider and clip on cable to prevent its tangling and clinging to clothes and surrounding objects.
There is also need to note, that Audio-Technica – is a Japanese company, established in Tokyo in 1962 year, as phonographs cartridges producer. Then it started to develop and introduced among its products microphones and headphones, among which now there are wired and wireless models. At current moment it is one of the leading foreign consumer sound electronics and government organizations devices supplier in USA. And in the country of a rising Sun audio devices are usually made with high quality of components and assembling.